COSI Tech Studio
Tech Studio will be refocusing its efforts into developing and implementing mission-based programs including on-site school and after-school workshops and expanding Tech Studio School's Out and Summer Camps. As a result, Tech Studio will no longer host open hours on Wednesdays and Saturdays. Thank you to all who have support Tech Studio in this capacity.

Interested in Tech Studio High School Tech Week, School's Out Camps, Homeschool Labs, or Public Workshops?

Are you a school or community group interested in reserving a program?
3D Printer Jump-Start
Educator Professional Development
Take full control of 3D printing technology and help your students to do the same through Tech Studio's intensive, day-long "3D Printer Jump-Start" course! Experienced COSI educators will guide you through the complete build of a 3D printer. From motor control to print calibration, learn all the ins and outs of exactly how your machine works. At the end of the day, the printer you build comes back to your classroom to be used confidently in curricula throughout the school year. Get the training and experience you and your team need to make a 3D printer an integral part of your lessons, all in a single, exciting, hands-on day of professional development and team building at COSI!
$2,490 per printer kit and instruction (up to 5 participants per printer kit)
Purchase Here
Offered at COSI, 9am-5pm:
Friday, February 15
Friday, April 12
Thursday, July 25
Monday, September 16

Also available at your location throughout Ohio - $3,000 per printer kit and instruction
Coding & 3D Modeling Educational Technology Professional Development
Coding for Elementary School Educators
Learn to use MIT's web-based Scratch* software to teach your students about coding and video game design. Explore the basics of programming logic and game mechanics while creating your own interactive game or story!
Ideal for grades 2-4
Coding for Middle School Educators
Plug into the world of electronics by exploring BBC's Micro:bit microcontroller, learning to use its web-based programming platform* (with JavaScript), and experimenting with circuit building and control.
Ideal for grades 5-8
Coding for High School Educators
Receive an introduction to the Arduino* language and construct basic circuits using the Arduino Uno microcontroller and solderless breadboard. Also, learn to write code to take input from sensors and control outputs like LEDs and motors.
Ideal for grades 9-12
3D Modeling for Elementary School Educators
Explore fundamentals of computer-aided design with Autodesk's free, web-based software Tinkercad and learn to use basic geometric shapes to create a 3D-printable file.
Ideal for grades 2-4
3D Modeling for Middle School Educators
Apply the basic elements of 3D design in Autodesk's Tinkercad* to Autodesk's Fusion360 software and discover how to transition your students from introductory to professional modeling techniques.
Ideal for grades 5-8
3D Modeling for High School Educators
Learn to sketch, extrude, sculpt, and export for 3D printing with Autodesk's professional-level computer-aided design software, Fusion360.
Ideal for grades 9-12
All programs 3 hrs - $555 at COSI, $595 off-site
Maximum of 10 seats (additional seats may be purchased)
For more information or to schedule a program, contact This email address is being protected from spambots. You need JavaScript enabled to view it.
Available throughout Ohio, additional travel fees may apply

*denotes applications available for use on ChromeOS
*Tech Studio open hours end after Sept 1st
Tech Studio Team: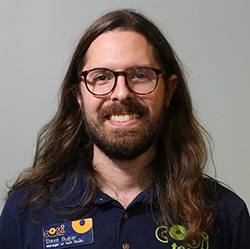 Dave Buker
Manager of Tech Studio
Specialties: Music Programming, Audio Recording, Videography, Video Editing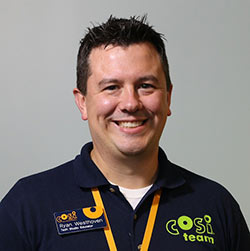 Ryan Westhoven
Tech Studio Educator
Specialties: Coding, Electronics, 3D Modeling/Printing, Videography
What We Offer:
Videography / Photography
DSLR cameras, lenses, tripods, lights, microphones
Adobe's Premiere Pro software for video editing
Green screen compositing
2D, 3D, and stop-motion animation
Music Programming
Apple's Logic Pro X software for recording and mixing
Midi controllers
Condenser microphones
3D Modeling / Printing
Autodesk software and additional freeware
Multiple 3D printers*
3D scanning
Coding / Programming
Microcontrollers
Electronics prototyping
MIT's Scratch software and platforms for game design
Digital Art
Adobe's Illustrator and Photoshop software
Drawing tablets
Vinyl cutter*
Laser cutter*
* commercial use not permitted