Tech Studio
Tech Studio Hours:
Wednesdays (3pm-5pm) and Saturdays (12pm-5pm)
Special Hours: Wednesday March 22 and 29 – open (12pm-5pm)
Saturday April 22 - open (12pm-3pm)
Special Note: COSI's Tech Studio is now open for kids of all ages and their parents (activities best suited for children ages 8+). During these hours, Tech Studio is free, regardless of COSI admission.
COSI's Tech Studio offers multimedia activities for all ages, including 3D modeling/printing, music recording, video production, digital art, coding, and animation. The studio is open, and free, on Wednesdays and Saturdays.
Tech Studio utilizes the following hardware/software:
3D Modeling/Printing - Autodesk software and additional freeware - Multiple 3D printers* - 3D scanning Music Creation - Logic Pro X, and Garageband software for recording and mixing - Midi controllers - Condenser microphones Digital Art - Adobe's Illustrator and Photoshop software - Drawing tablets - Vinyl cutter* - Laser cutter*
Videography/Photography - DSLR cameras, lenses, tripods, lights, microphones - Adobe's Premiere Pro software for video editing - Green screen compositing - 2D, 3D, and stop-motion animation Coding/Programming - Microcontrollers - Electronics prototyping - Soldering - MIT's Scratch software and platforms for game design
* commercial use not permitted
Interested in booking a workshop in Tech Studio? Contact Dave Buker (Tech Studio Manager) at This email address is being protected from spambots. You need JavaScript enabled to view it. or (614)228-2674 x2010. Workshop topics include: 3D modeling/printing, music creation/audio recording, video production, digital art/graphic design, coding/programming. Workshops recommended for 5th grade and up.
Current Workshops:
Music Creation
Saturday, April 15
10am - 12pm
Using Apple's Logic Pro X software, participants will learn to create music with virtual instruments (midi controllers) and drum machines. Additionally, participants will explore Hydrogen, a free drum machine application.
Member: $25 Nonmember: $30
Reserve Here
Electronics Prototyping
Saturday, May 20
10am - 12pm
Participants will receive an introduction to the Arduino language (a branch of C/C++) in order to construct basic circuits using the Arduino Uno controller and solderless breadboard. They will also write code to take input from sensors to control LED lights.
Member: $25 Nonmember: $30
Reserve Here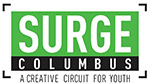 Tech Studio is a partner of SURGE Columbus. SURGE Columbus is a collaborative of museums, libraries, and media organizations in Columbus, Ohio empowering teens to discover and pursue their learning interests outside of school by connecting them with mentors, digital and cultural resources, and each other. For more information, visit surgecolumbus.org
Support provided by:
Harry C. Moores Foundation