Due to restricted spaces, some COSI experiences will remain closed for the foreseeable future, including the Planetarium. Please check back again soon for updates on the return of this COSI experience.
The COSI Planetarium—the largest in Ohio—features state-of-the-art digital technology that offers an unsurpassed glimpse of our incredible universe. The COSI Planetarium's Digistar 5 projection system and 60-foot dome will transport you to the farthest reaches of the galaxy, to undersea volcanoes and distant lands, and even into the human body. For all who wonder, who question, who dream, your window to the universe is now open at COSI.

Hearing assist devices are available for all shows within the Planetarium. No special reservations or advance notice is required, simply notify the Planetarium usher that you would like the subtitled version of show as you hand them your ticket. If you are planning a visit as a group you can make this request in advance.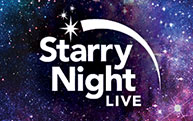 Starry Night Live
This live show explores what can be seen in the sky tonight in central Ohio. Discover the current stars, constellations, planets, and deep sky objects that fill the starry night.
Best for ages 7+ | Running time: Approximately 22 minutes.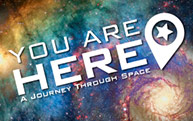 You Are Here: A Journey Through Space
"You Are Here: A Journey Through Space" is a live show that explores the depths of our universe. What's in our solar system and where, exactly, are we? Find out on this journey that explores the vastness of our universe. Recommended for ages 7+. Running time: Approximately 25 minutes.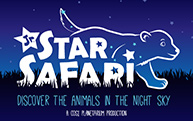 Jr. Star Safari
Discover the animals in the night sky. Families with young children will enjoy this engaging and interactive live astronomy show, led by a COSI Star Safari Guide along with the help of Orion, our master scout, to find animals in the night sky. This show created by COSI especially for early learners, features beautiful animal drawings, real-animal footage from The Columbus Zoo and a tour of the night sky across COSI's 60-foot dome. No need to be quiet on this safari, the animals won't mind a few oohs, aaahs and shout-outs from the audience as they discover the beauty and wonder of the stars. Recommended for ages 3-8. Running time: Approximately 22 minutes.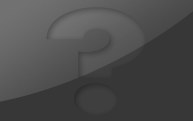 Teacher's Choice Show
See the shows of your choice during your field trip or group visit, including Cell! Cell! Cell!, Black Holes: The Other Side of Infinity, Our Solar System, Back to the Moon for Good, Wildest Weather in the Solar System, One World One Sky: Big Bird's Adventure, and Our Universe Above.


Host your wedding, party, or private event under swirling galaxies and spectacular starscapes, no matter what the weather outside. The COSI Planetarium is available for weddings, birthday parties, corporate events, and family reunions, and offers customized starshows and seating for over 200 guests. For private rentals, please contact the This email address is being protected from spambots. You need JavaScript enabled to view it.. For birthday parties, please contact the This email address is being protected from spambots. You need JavaScript enabled to view it..