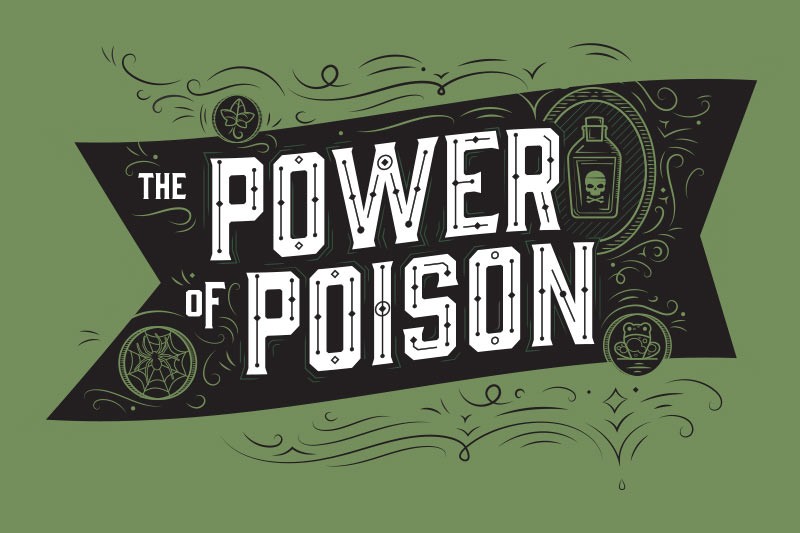 Could a toxin be used to treat Alzheimer's? Did Cleopatra die from poison rather than venom from a snakebite? These questions and more are explored in The Power of Poison, COSI's latest limited-run exhibition in the American Museum of Natural History Special Exhibition Gallery opening October 20, 2018.

"The Power of Poison is truly a powerful exhibition on this captivating topic!" said Dr. Frederic Bertley, president and CEO of COSI. "The exhibition explores toxic plants and animals; shows how the science and technology of detecting poison developed over centuries; and how some venoms and toxins are used today by medical researchers to treat medical conditions of our loved ones. From folklore to science, The Power of Poison is an engaging subject matter for people of all ages."

In The Power of Poison, visitors will encounter some of history's most puzzling poisoning cases, use clues to solve poisoning mysteries, and take part in a live theater presentation to help unravel a real-world case of poisoning. The Power of Poison comes to COSI as part of a unique collaboration with the American Museum of Natural History in New York City. The partnership began with the opening of the American Museum of Natural History Dinosaur Gallery in November 2017.

"Every day, the Museum explores all that is extraordinary and fascinating in the natural world, and the relationship of these myriad phenomenon to humanity," said Ellen V. Futter, President of the American Museum of Natural History. "Nowhere is this more dramatic, perhaps, than in the story of poison. What evolved in animals and plants as a defense against predators or a means of preying has been used by humans throughout history for magic, murder, villainy, intoxication, and, increasingly, groundbreaking medicine. This exhibition reveals the strange and even intriguing things that happen when humans and toxic substances collide."

As scientists probe the secrets of poison, they're finding that these substances—endlessly shaped by natural selection—can also be powerful forces for healing.

"Millions of years of evolutionary history have produced a rich diversity of poisons across all groups of plants and animals, an arsenal of biochemical weapons that organisms use for offense and defense. In many cases humans have learned to harness those potent tools as well," said Mark Siddall, curator in the Division of Invertebrate Zoology at the American Museum of Natural History who oversaw The Power of Poison. "In this exhibition, we illuminate how poison is used in the natural world—and the evolutionary history behind it—as well as the ways in which people have used it and tried to understand its power throughout the centuries."

The exhibition also features several live animals—including Golden Poison Dart Frogs, a Gila monster, a Chilean rose hair tarantula, and several marine animals —whose toxins have been studied for medical applications in this part of the exhibition.

The Power of Poison is free with COSI admission or Membership. It will be on display October 20, 2018 – January 13, 2019. For more information visit cosi.org/exhibits/power-of-poison. The Power of Poison is organized by the American Museum of Natural History, New York (amnh.org).