Author: Jaclyn Reynolds
COLUMBUS, OH – COSI has been named #1 Science Museum in the 2020 USA TODAY 10Best Readers' Choice Travel Award Contest.

Nominees are carefully chosen by a panel of relevant experts including a combination of editors from USA TODAY, editors from 10Best.com, and other relevant expert contributors. The public then votes on the nominees, in this case 19 other science museums across the nation.

"The people have spoken, and we could not be more excited and proud of this distinguished honor of being voted Best Science Museum in the nation," said Dr. Frederic Bertley, COSI President and CEO. "We want to thank all of our supporters across the country and especially those in Central Ohio who made this possible. While our Team works tirelessly to provide best in class experiences for our guests, to have this validated by the entire country is an accolade not soon to be matched. And for this great City of Columbus and Central Ohio region, it is just another feather in an ever-growing cap of number one successes and major awards – we remain humbled to be part of this extraordinary Columbus narrative!"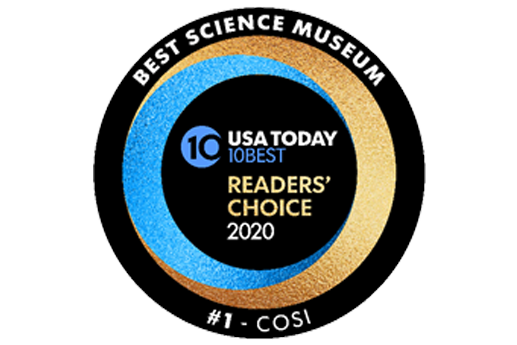 The top ten winners in the Best Science Museum category are as follows:
Center of Science and Industry (COSI)
Tellus Science Museum, Cartersville, GA
Field Museum, Chicago, IL
Mid America Science Museum, Piney, AR
Houston Museum of Natural Science, Houston, TX
Natural History Museum of Utah, Salt Lake City, UT
Denver Museum of Nature & Science, Denver, CO
Science Museum of Minnesota, Saint Paul, MN
Perot Museum of Nature and Science, Dallas, TX
Museum of Science, Boston, MA
COSI is proud to be recognized as a distinctive science museum in the nation. COSI offers a permanent dinosaur gallery and special exhibition gallery through a unique partnership with the American Museum of Natural History in New York City. COSI extends programming outside its doors through initiatives like the COSI Science Festival, uniquely collaborating with 18 neighboring communities like no other science festival of its kind. COSI also hosts signature diversity and inclusion programming including the Color of Science, which highlights the significant contributions of women and persons of color to science and engineering.