COSI's Signature Diversity and Equity Program Recognizes the Contributions of Women and Persons of Color to Modern Science and Engineering.
COLUMBUS, OH – Miss America 2020, Camille Schrier, wowed judges with her live science experiment during the 2020 pageant with her unique talent, performing a catalytic experiment, the decomposition of hydrogen peroxide, (also known as "Elephant Toothpaste") which sealed her win. Inspired by her initiative in bringing science to the national competition, COSI President and CEO, Dr. Frederic Bertley, will be interviewing the Virginia biochemist exclusively during The Color of Science Digital Series on Thursday, April 1, 2021 at noon.

The Color of Science is COSI's signature diversity and equity program and highlights the incredible contributions of women and persons of color to modern science and engineering. The Color of Science monthly digital series airs the first Thursday of each month, from 12-1pm EST. The series gives science, technology, engineering and mathematics (STEM) professionals living in our community and beyond the opportunity to tell their remarkable stories about the important and inspirational work they do every day. This highly viewed program has featured prominent national figures like former Astronaut Dr. Kathryn Sullivan, child prodigy Caleb Anderson, and now, Miss America 2020, Camille Schrier.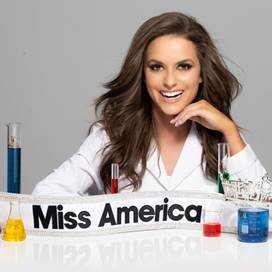 "The Color of Science is designed specifically to break the myth that all scientists are old men with thick glasses and pocket protectors, and Miss America 2020 is a penultimate example of that representation," said Dr. Frederic Bertley, COSI President and CEO. "Elevating science to a national platform such as Miss America not only represents an unparalleled example of diverse role models, but also inspires the next generation of girls and boys towards imagining the wide variety of opportunities that STEM-related fields afford."
Dr. Bertley founded and directed The Color of Science program 12 years ago and has implemented it across the country in Philadelphia, Atlanta, San Diego, New York, D.C. and in international locations such as Canada and Egypt. And now, The Color of Science is at the #1 Science Museum in the nation, COSI.
Ms. Schrier is studying to obtain a Ph.D. in Pharmacology at Virginia Tech. She spent the past year using her national platform to advocate for drug safety and abuse prevention from pediatrics to geriatrics. The general public can register for this free program at
https://cosi.org/connects/color-of-science.php
.