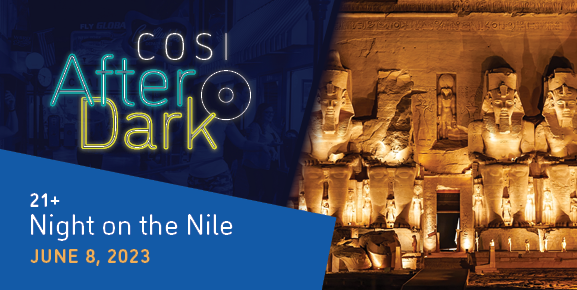 COSI After Dark / Night on the Nile

Step back in time to ancient Egypt and explore the mysteries of the pyramids at COSI After Dark: Night on the Nile! Indulge in delicious Middle Eastern cuisine, sip on exotic cocktails and dance the night away. With stunning décor and thrilling, educational activities, this event is sure to transport you to a magical world of pharaohs and pyramids. While you're here, don't forget to add on your tickets to see our limited time exhibit, Tutankhamun: His Tomb and His Treasures.

Night on the Nile event is June 8 , 7pm - 10pm, doors open at 6:30pm.

Tickets are $20/person in advance or $30/person at the door.
*Each attendee must be at least 21 years of age to enter COSI After Dark. A current photo ID with date of birth, will be required upon entry. No admittance will be permitted without a valid ID.*
Please note that the Motion Simulator is closed temporarily.