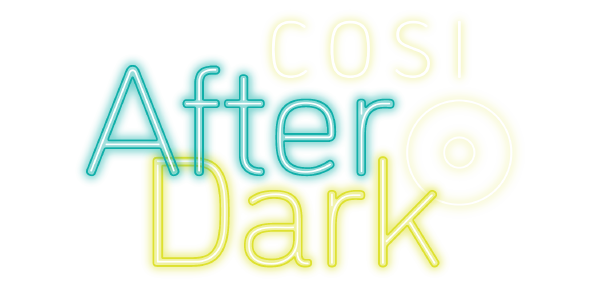 Grab your friends and start your weekend early with COSI After Dark, an evening event series exclusively for adults ages 21+. Every month showcases a different theme—from Wizard School to Super Heroes—and each features entertainment, activities, games, and experiences you can't get at any other visit to COSI. Explore the building and experience COSI without kids, all while enjoying delicious food, craft beer and themed cocktails.

Interested in being a vendor or sponsor at COSI After Dark? Click here.
Looking for group admission to COSI After Dark? Please reach out to This email address is being protected from spambots. You need JavaScript enabled to view it..
Wizard School: Yule Ball

December 14, 2023
7PM - 10PM
$20/person in advance
$30/person at the door
UPCOMING AFTER DARK EVENTS
Grab your friends and start your weekend early with COSI After Dark, an evening event series exclusively for adults ages 21+. Every month showcases a different theme—from Wizard School to Super Heroes—and each features entertainment, activities, games, and experiences you can't get at any other visit to COSI. Explore the building and experience COSI without kids, all while enjoying delicious food, craft beer and themed cocktails.



GET TICKETS

EVENT INFO
Wizard School: Yule Ball
December 14, 2023
7PM - 10PM
$20/person in advance
$30/person at the door
KNOW BEFORE YOU GO
Find more information about parking, tickets, ID requirements, and more.

UPCOMING AFTER DARK EVENTS