Egypt, a country filled with rich history and heritage that spans back to the 4th millennia BCE. From historic hieroglyph boards and jewelry to pharaoh statues and pyramids, Egyptian art, artifacts, and architecture allow us to dive deep into the culture, history, and, lives of the citizens of ancient Egypt. Many of the pieces found by archaeologists were meant to serve a functional purpose, while carved statues and fresco paintings portrayed day-to-day living and honored the pharaohs and deities of Egypt.

If you found yourself in ancient Egypt during the reign of King Tut in 1300 BC, what art would you leave behind for people to find? Your task is to imagine, create, and illustrate your own ancient Egyptian inspired artwork. Which ancient art or artifact inspired you and how did you translate it into your own artwork? Does your piece include special symbols, figures, and other iconography that tell a story? Tell us about it! Or perhaps you were directly inspired by King Tut or another Pharaoh? Does your piece include any animals like the sacred scarabs, birds, cats, and other creatures worshipped in Egypt? Allow ancient Egyptian art and innovation spark your creativity and imagination to bring your pieces to life.

If you are unable to fill out the submission form, please contact us at This email address is being protected from spambots. You need JavaScript enabled to view it. for mailing or in-person drop-off opportunities.

Submission Deadline is February 1, 2023 at midnight. No late entries will be accepted.
Questions? Email This email address is being protected from spambots. You need JavaScript enabled to view it.

DETAILS & POLICIES:
Artists may submit ONE image of 2-Dimensional art for consideration (all 2D media are welcome-drawing, painting, prints, collage, photography, digital, etc)
Handmade jewelry may be submitted for consideration ONLY if the accepted piece is framed in a shadow box and ready/able to be hung on the wall.

TWO images may be submitted for jewelry entry (one image for showcasing full piece in its entirety and one image for detail)

This contest features separate age categories: Adult (18+), Teen (12-17), and Youth (11 and under)
Jury-selected pieces will hang in COSI's gallery hallways outside Traveling Exhibit Gallery
If selected, COSI may request the original artwork remain at COSI for the duration of the Exhibition (March - September 2023)
Artists may enter only their original work – no reproductions of original work will be accepted
Your submission may be displayed in COSI. Anything that is deemed inappropriate or explicit by the Judging Panel or COSI's Project Team will not be accepted for review
IMPORTANT DATES:
Call for Entry Open: December 1, 2022
Deadline to submit: February 1, 2023 at midnight (no late submissions will be accepted)
Artist Notifications: Week of February 20, 2023
Exhibition on view March 18, 2023 - September 2023
CONDITIONS AND LIMITATIONS:
Artists may enter ONE artwork for consideration.
Media Conditions:

2D Art: must fit within one of the following frame sizes:

8.5" x 11"
11" x 17"
16" x 20"
24" x 36"

3D Art: Handmade jewelry may be submitted for consideration ONLY if the accepted piece is framed in a shadow box and ready/able to be hung on the wall. If the accepted 3D piece arrives without a frame, the COSI project team has the ability to reject the piece and it will not be part of the exhibition.

COSI will frame all accepted 2-Dimensional entries.
Upon delivery, if an accepted artwork is found to have been misrepresented, it may be disqualified.
Submissions will only be accepted via website form, unless other arrangements between the artist and the COSI art contest team have been made in advance.
UPLOADED IMAGE SPECIFICATIONS:
Artwork must be photographed straight and in focus
Label uploaded image with title of artwork
Uploaded image must be high resolution, less than 8 MB and saved as a JPEG
If your total image file size is greater than 8 MB, you may resize the image through one of these free photo editing program: Microsoft Image Resizer, Microsoft Photo Editor, Picasa, etc.
*When photographing artwork, please remember this will be the image reviewed by our jurors during the selection process. Please submit the best photo representation of your artwork.
JURORS: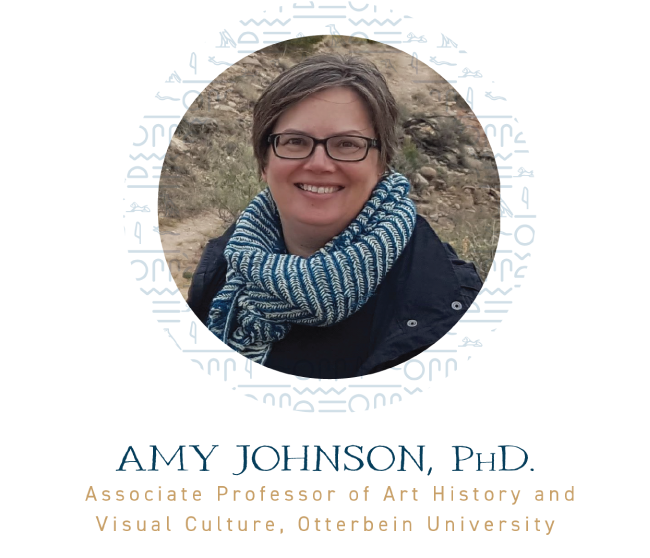 Amy Johnson teaches Art History and Visual Culture at Otterbein University. Her courses cover topics of gender, race, religion, and identity across diverse cultures and time periods. Her areas of study include modern and contemporary European and American art and architecture, women's and gender studies, visual culture studies, and historic preservation. Dr. Johnson's research focuses on the links between the artist and society, and the larger role art plays in our community. Her recent projects explore the work of women artists, authors, illustrators, and photographers in the late nineteenth and early twentieth centuries, including Alice Austen, Jessie Tarbox Beals, Mariana Griswold Van Rensselaer, and others. Dr. Johnson has presented research at national and international professional conferences and leads international travel courses to destinations in Europe. She received her PhD in Art History from the University of Delaware, a Master's Degree in Art History from Tufts University, and a Bachelor's Degree in Art History from the State University of New York at Geneseo. Originally from upstate New York, Dr. Johnson now lives in Westerville with her partner, three cats, and a large yarn stash.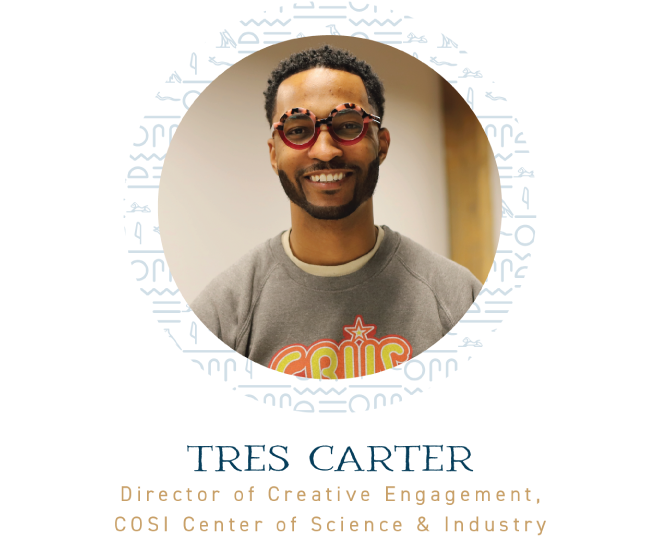 Tres Carter ("TC") is a multi-faceted artist, entrepreneur, and business professional helping to position COSI as a national resource for learning about the Metaverse and engaging the developing technologies that support it. In addition, he is supporting brand & content strategy to expand the reach and impact of COSI's Emmy-award winning science shows "QED with Dr. B" & "Dr. B in 3". Leveraging a diverse professional background ranging from building Financial Intelligence Units at Fortune 500 banks to launching an award-winning membership salon experience, TC has developed a passion and expertise in team building, processing mapping, creative direction, strategic storytelling, growth campaigns, and client acquisition. When he's not helping clients amplify their brand, TC can be found with his face in a book or exploring Columbus, OH with his wife, Dionna, and two kids Autumn Rain and Phoenix Storm.