Next Theme: Christmas in July (July 12th)
It's never too early to get in the Christmas spirit. Meet Santa, snap a pic with real reindeer, and even have a snowball fight. COSI After Dark is a 21+ event.
Hands On Activities:
⨀ Animal toys (enrichment) with COSI's Wild Experience
⨀ Holiday Lights Gadgets Stage Show (back for one night only!)
⨀ Indoor "snowball" fight
⨀ Make artificial snow
⨀ Liquid nitrogen and weather demonstrations
⨀ Ozo Bots
⨀ Dinosaur toys

Planetarium:
⨀ 7:30pm - What's Up Columbus
⨀ 8:30pm - Deep Space Q&A
⨀ 9:30pm - Fantastic Fractals - The Beatles
Buffet (6pm-8:30pm):
Coming soon
Partners:
⨀ Four String Brewing Company
⨀ LEGOLAND Discovery Center
⨀ Multivarious Games
⨀ Excess Trivia
⨀ Santa Claus and his reindeer

COSI After Dark: a 21+ Event!
It's COSI without kids!
6:00pm - 10:00pm
Geek out with grown-ups and explore COSI, ride the High Wire Unicycle, enjoy special themed activities, concessions and a cash bar.

No time to eat before coming? Add food to your COSI After Dark ticket. Offering a variety of small plates, guests who purchase this food ticket receive a wristband for all-you-can eat menu items. Buffet is open from 6:00-8:30.
Cost: Member - $14
Nonmember - $18 in advance, $20 at the door
Buy Tickets
Upcoming Themes:
| | |
| --- | --- |
| Thursday July 12th, 2018: | Christmas in July |
| Thursday Aug 9th, 2018: | Time Travel |
| October 18th, 2018: | Pick Your Poison |
| November 15th, 2018: | Game Show |
| December 13th, 2018: | Ugly Sweater Party |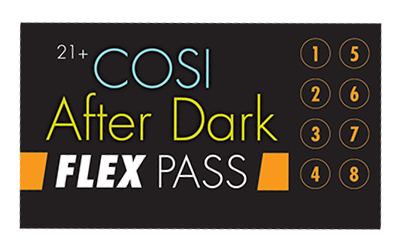 Introducing the COSI After Dark Flex Pass:

The COSI After Dark Flex Pass can be redeemed for 8 COSI After Dark tickets. You can pick and choose which COSI After Dark events you want to attend, save some money, and even use your additional tickets to bring along friends! The Flex Pass is only redeemable onsite.

Cost: Members - $70 | Nonmembers - $99