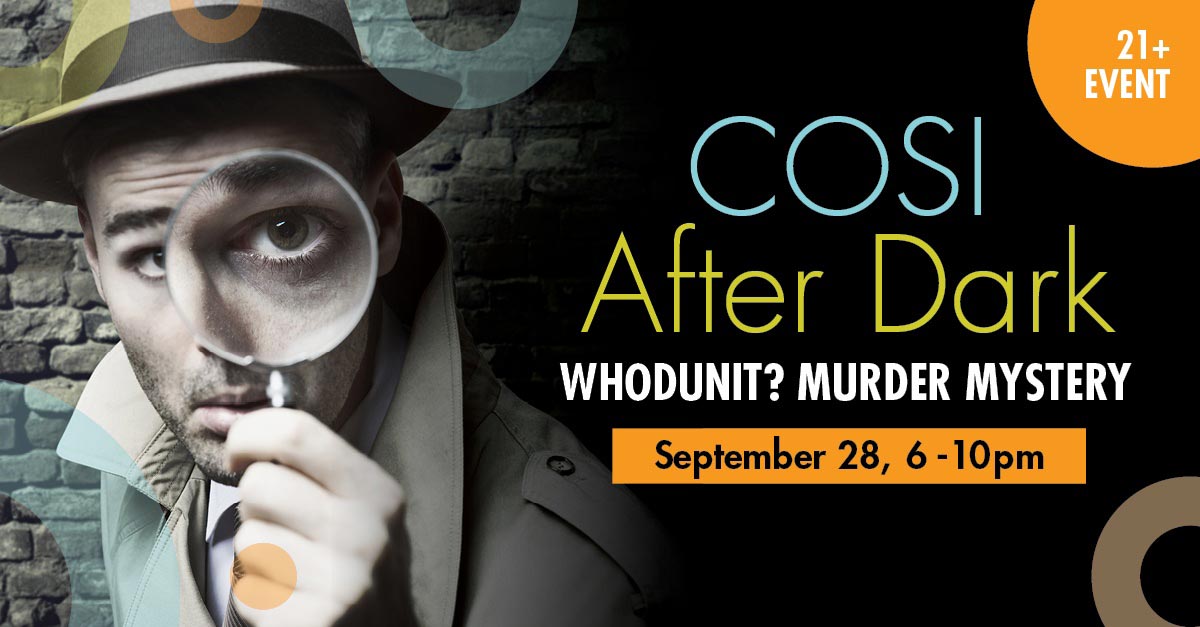 COSI After Dark: a 21+ Event! It's COSI without kids!
Grab your friends and start your weekend early with COSI After Dark, an evening event series exclusively for adults ages 21+. Each month showcases a different theme - from Wizard School to Dinosaurs - and each features activities, games, and experiences you can't get at any other visit to COSI. Explore the building, ride the High Wire Unicycle, and best of all, experience COSI without kids, all while enjoying craft beer and themed cocktails.
Next Theme: Whodunit Murder Mystery (September 28)
Murdercon is the country's largest convention for fans of true crime novels, websites, and most importantly, podcasts. Each year, the podcast hosts with the largest following and their fans gather at the convention center for a weekend of all things murder and mayhem. It was all fun and games…until someone had to go and actually get murdered. The rising star host of a new popular podcast was set to make their big Murdercon debut but was found dead just as the convention was about to start. You and all of the other convention attendees are already amateur detectives, so the Murdercon organizers need your help to solve the crime. Can you put together the clues and crack the case?
Buy Tickets
Subscribe to email
Admission:
Member - $14
Groups (10 or more) - $16
Nonmember (in advance) - $18
Nonmember (at the door) - $20
No time to eat before coming? Add food to your COSI After Dark ticket. Offering a variety of small plates, guests who purchase this food ticket receive a wristband for all-you-can eat menu items. Buffet is open from 6:00-8:30.
Buy Tickets