Next Theme: Ugly Sweater Party (December 13th)
Don't worry about looking your best for this After Dark. Throw on your ugly sweater and celebrate the holidays at COSI! 21+ only. 21+ only.
Buy Tickets
Subscribe to email
Hands On Activities:
⨀ Snowballs and trebuchets
⨀ Let it Snow
⨀ Bee bots and other robotics toys
⨀ Microscopes looking at different clothing/sweater fibers
⨀ Hot Wheels build a track
⨀ COSI's Wild Experience

Planetarium:
⨀ 7:30pm - Let it Snow
⨀ 8:30pm - What's Up Columbus
⨀ 9:30pm - Fractals
Buffet (6pm-8:30pm):
⨀ Roast Beef Sliders with Caramelized Onions
⨀ Italian Sausage Pasta Bake
⨀ Spinach-Artichoke Dip and Queso Sauce
⨀ Warm Bread Pudding with Bourbon-Vanilla Sauce

Partners:
⨀ Great Lakes Brewing Company
⨀ Reindeer
⨀ Winter Maker Market
⨀ Columbus Idea Foundry
⨀ Columbus Fire Department
⨀ Jim Beam
⨀ Excesss Trivia

COSI After Dark: a 21+ Event!
It's COSI without kids!
6:00pm - 10:00pm
Geek out with grown-ups and explore COSI, ride the High Wire Unicycle, enjoy special themed activities, concessions and a cash bar.

No time to eat before coming? Add food to your COSI After Dark ticket. Offering a variety of small plates, guests who purchase this food ticket receive a wristband for all-you-can eat menu items. Buffet is open from 6:00-8:30.
Cost: Member - $14
Nonmember - $18 in advance, $20 at the door
Buy Tickets
Upcoming Themes:
| | |
| --- | --- |
| December 13th, 2018: | Ugly Sweater Party |
| January 10th, 2019: | Wizard School |
| February 14th, 2019: | Love |
| March 14th, 2019: | Monsters |
| April 11th, 2019: | Ice and Fire |
| May 9th, 2019: | Galaxy Far Far Away |
| June 20th, 2019: | Summer Camp |
| July 11th, 2019: | Dinosaurs |
| Aug 8th, 2019: | Throwback Thursday |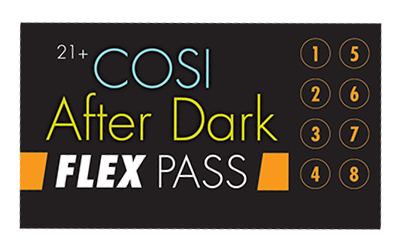 Introducing the COSI After Dark Flex Pass:

The COSI After Dark Flex Pass can be redeemed for 8 COSI After Dark tickets. You can pick and choose which COSI After Dark events you want to attend, save some money, and even use your additional tickets to bring along friends! The Flex Pass is only redeemable onsite.

Cost: Members - $70 | Nonmembers - $99