Next Theme: May the Fourth Be With You (May 4th)
Come to COSI After Dark, you must. Feel the Force, you will. Enjoy adult beverages and concessions, and explore the science behind that galaxy far, far away. COSI After Dark is a 21+ event.
Hands On Activities:
⨀ Blasters and Lightsabers
⨀ Droids
⨀ Levitation and Antigravity
⨀ The Force
⨀ Real Life Aliens with the animals from COSI's Wild Experience
⨀ Tech Studio drop-in workshop

Buffet (6pm-8:30pm):
⨀ Wookie Sliders – Pork Sausage blended w/ Chorizo, Roasted Peppers & Onions, served w/ kettle chips
⨀ Artichoke Deathstars – Crispy fried artichoke beignets w/ cream cheese filling
⨀ Mos Eisley Mac & Cheese – Loaded Ale-Cheddar Mac & Cheese (vegetarian)
⨀ Jabba the Hummus – Roasted Garlic Hummus w/ assorted Vegetables for dipping (vegetarian)

Partners:
⨀ The Actual Brewing Company
⨀ The 501st Legion Ohio Garrison
⨀ Rebel Legion
⨀ Saber Arts
⨀ Zach Fuller – Star Wars Collectibles
⨀ NASA Solar System Ambassadors

COSI After Dark: a 21+ Event!
It's COSI without kids!
6:00pm - 10:00pm
Geek out with grown-ups and explore COSI, ride the High Wire Unicycle, enjoy special themed activities, concessions and a cash bar.

No time to eat before coming? Add food to your COSI After Dark ticket. Offering a variety of small plates, guests who purchase this food ticket receive a wristband for all-you-can eat menu items. Buffet is open from 6:00-8:30.
Cost: Member - $14
Nonmember - $18 in advance, $20 at the door
Buy Tickets
Upcoming Themes:
| | |
| --- | --- |
| Friday May 4th, 2018: | May the Fourth Be With You |
| Thursday June 14th, 2018: | Dangerous Science |
| Thursday July 12th, 2018: | Christmas in July |
| Thursday Aug 9th, 2018: | Time Travel |
| October, 2018: | TBA |
| November, 2018: | TBA |
| December, 2018: | TBA |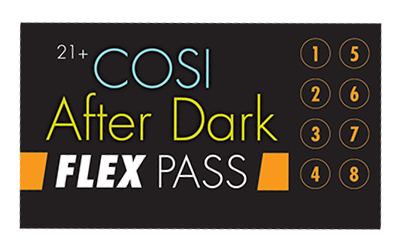 Introducing the COSI After Dark Flex Pass:

The COSI After Dark Flex Pass can be redeemed for 8 COSI After Dark tickets. You can pick and choose which COSI After Dark events you want to attend, save some money, and even use your additional tickets to bring along friends! The Flex Pass is only redeemable onsite.

Cost: Members - $70 | Nonmembers - $99