Next Theme: Pick Your Poison (October 18th)
For as long as people have created myths, they've told stories about the mysterious powers of poison. After Dark guests will get a special first look at our newest American Museum of Natural History traveling exhibit, The Power of Poison. 21+ only
Buy Tickets
Subscribe to eMail
Hands On Activities:
Coming soon ⨀ Venomous animals
⨀ Power of Poison show
⨀ Relative Toxicity
⨀ Venom vs. Poison
⨀ Forensic Toxicology

Planetarium:
⨀ 7:30pm - What's Up Columbus
⨀ 8:30pm - Deep Space Q&A
⨀ 9:30pm - Fantastic Fractals
Buffet (6pm-8:30pm):
⨀ Spinach and Artichoke Dip
⨀ Roasted Pork Sliders with sweet pickled onions served with kettle chips
⨀ Apple Cider Braised Chicken with Apple-Chai spiced Risotto
⨀ Roasted Root Vegetable Pasta

Partners:
⨀ The Ohio State Wexner Medical Center Neurological Institute
⨀ Trapped Columbus
⨀ Land Grant Brewing Company
⨀ Columbus Cultural Arts Center
⨀ OSU Department of Evolution, Ecology, and Organismal Biology
⨀ Poison control
⨀ Excesss Trivia

COSI After Dark: a 21+ Event!
It's COSI without kids!
6:00pm - 10:00pm
Geek out with grown-ups and explore COSI, ride the High Wire Unicycle, enjoy special themed activities, concessions and a cash bar.

No time to eat before coming? Add food to your COSI After Dark ticket. Offering a variety of small plates, guests who purchase this food ticket receive a wristband for all-you-can eat menu items. Buffet is open from 6:00-8:30.
Cost: Member - $14
Nonmember - $18 in advance, $20 at the door
Buy Tickets
Upcoming Themes:
| | |
| --- | --- |
| October 18th, 2018: | Pick Your Poison |
| November 15th, 2018: | Game Show |
| December 13th, 2018: | Ugly Sweater Party |
| January 10th, 2019: | Wizard School |
| February 14th, 2019: | Love |
| March 14th, 2019: | Monsters |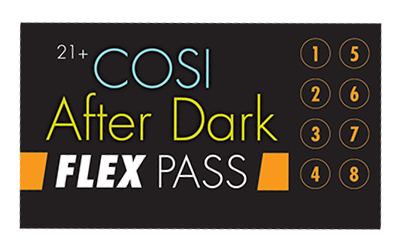 Introducing the COSI After Dark Flex Pass:

The COSI After Dark Flex Pass can be redeemed for 8 COSI After Dark tickets. You can pick and choose which COSI After Dark events you want to attend, save some money, and even use your additional tickets to bring along friends! The Flex Pass is only redeemable onsite.

Cost: Members - $70 | Nonmembers - $99