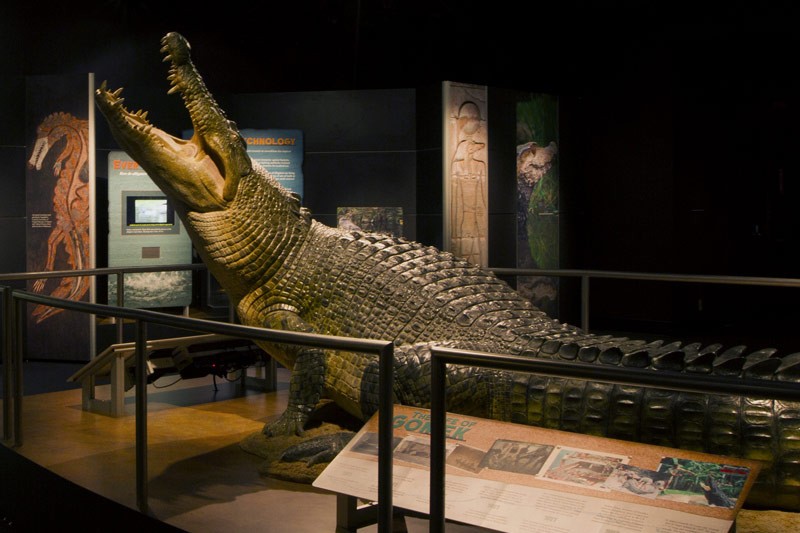 CROCS – ANCIENT PREDATORS IN A MODERN WORLD OPEN
JANUARY 26 – MAY 5, 2019
COLUMBUS, OH – Crocodilians are the subject of a new limited-run exhibition at COSI opening January 26, 2019. The exhibition explores the rich and complex lives of crocodilians and features some living species.
"This exhibition explores the lives and behavior of some of nature's most fascinating and remarkably diverse creatures – crocodilians – and their biology," said Dr. Frederic Bertley, COSI president and CEO. "Through both living creatures and model dioramas, visitors will be introduced to these exciting animals and learn details about how crocs and humans coexist."
Crocs have flourished for more than 200 million years developing into specialized modern-day stealthy aquatic predators with rugged bodies, keen senses, and incredible strength. Crocodiles also live complex social lives. They communicate with a range of sounds and subtle postures, and provide their young with tender parental care.
Exhibit highlights include:
Model dioramas of living environments of crocodilians and live species including a Siamese crocodile (Crocodylus siamensis), an American alligator (Alligator mississippiensis), an African dwarf crocodile (Osteolaemus tetraspis), and an African slender-snouted crocodile.
Thechampsa skull - The 13-million year old jaws of this massive fish-eating crocodylomorph (the group that includes modern crocodilians) is an example of the super-giant crocs of the past.
Bring a Fossil to Life – An interactive experience that puts visitors in the role of a paleo-artist, creating a plausible 3D animation of a long-extinct croc.
The delicate preserved skeleton of Hoplosuchus, a tiny insect-eating relative of modern crocs, was a long-legged runner that probably ate insects!
Build a Crocodylomorph - By working a virtual field notebook, visitors can assemble a variety of ancient crocs and glimpse the staggering diversity the group once sported.
Ask the Fossil Experts - Ever wonder if ancient crocs ate dinosaurs or why some extinct crocs grew so big? Paleontologists, including Dr. Mark Norell from the American Museum of Natural History, have the answers.
The Social Gator - Far from mindless brutes, crocodilians lead complex social lives. Explore how they communicate with sight, sound, smell, and touch in this interactive exhibit.
Crunch Capacity - Crocodilians have the strongest bites of any animal measured. Visitors can test their strength against a croc on a modified force gauge while a video demonstrates how researchers measure the bites of real crocs.
Croc Talk - Learn to speak "croc" in under 5 minutes with this interactive station. Activate real croc calls and learn what scientists think they mean.
Come face to face with a life-sized model of Gomek - the largest crocodile ever exhibited in the Western Hemisphere was caught on the Fly River of New Guinea in the 1960s. Plus hear an interview with George Craig, the croc hunter who captured Gomek, recounts the danger and technical challenges of capturing giant crocs unharmed.
Crocodilians live in tropical and subtropical waters around the world. Explore an animated world map to learn which species live where.
Crocs - Ancient Predators in a Modern World
is included with COSI admission. Visit cosi.org for winter hours.
Crocs - Ancient Predators in a Modern World
is produced by Peeling Productions, the exhibit arm of Clyde Peeling's Reptiland in Allenwood, Pennsylvania, an institution accredited by the Association of Zoos and Aquariums, created the exhibition.
###
About COSI
The Center of Science and Industry (COSI), located in Columbus, Ohio, is a dynamic, hands-on science center with more than 50 years of award-winning expertise in providing engaging, inspiring, and transforming learning experiences. COSI cultivates a vibrant learning ecosystem for all people, helping ensure we are scientifically literate, critically aware and thoughtfully engaged. From hands-on interactive exhibits in themed exhibition areas, and state-of-the-art planetarium, to traveling and education outreach programs, COSI delivers science and science educational experiences both in its building and far beyond its walls. With unprecedented and one-of-a-kind partnerships, including New York City-based American Museum of Natural History (AMNH), COSI has positioned itself as a national powerhouse museum with content and experiences for people of all ages. Located on Central Ohio's burgeoning Scioto Peninsula, the epicenter of Columbus' downtown redevelopment, COSI stands as a leading cultural institution and destination attraction for regional, national, and international audiences. For more information, visit cosi.org.