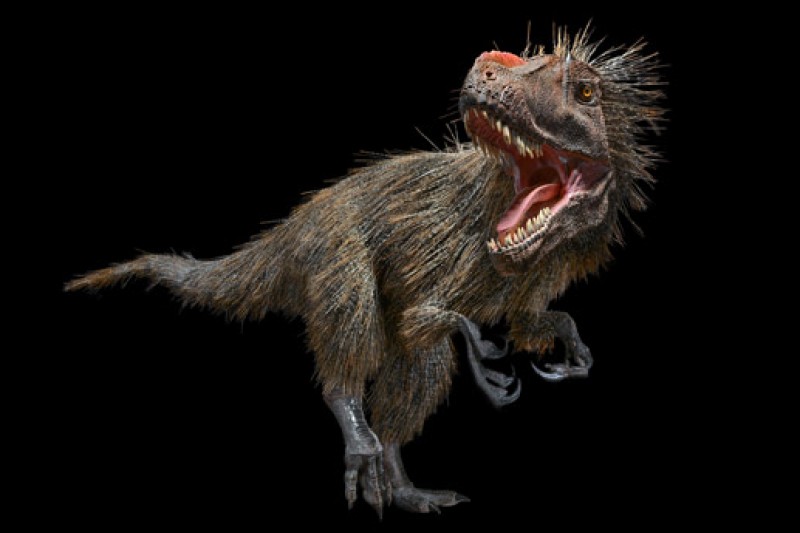 Columbus, OH–
COSI, the Center of Science and Industry in Columbus, has announced the opening of the new American Museum of Natural History Dinosaur Gallery on November 18, 2017. The new gallery is a unique collaboration between a leading science center and a renowned natural history museum. Housed in a completely renovated space at COSI, the gallery will feature installations of world-class dinosaur exhibits from the American Museum of Natural History including a full-size cast skeleton of the massive Tyrannosaurus rex, a stunning 60-foot-long metallic model of the long-necked Apatosaurus, and interactive exhibits showcasing the latest scientific findings about this fascinating group of animals. The new gallery reveals the evolution of dinosaur biology, highlighting ongoing research by expert paleontologists. Scientists now know that dinosaurs never really fully vanished from Earth: modern birds are, in fact, their living descendants, classified along with their extinct relatives in the evolutionary group Dinosauria.
"We are extremely excited about this unique partnership," said Dr. Frederic Bertley, President and CEO of COSI. "COSI is expanding its fantastic offerings as a state-of-the-art science center to now include natural history, and we are doing it in partnership with one of the world's leading natural history museums – New York City's American Museum of Natural History. The fact that we are opening with dinosaurs is a bonus, as dinosaurs appeal to visitors of all ages and backgrounds. More than that, however, the addition of this spectacular American Museum of Natural History content within our walls positions COSI at the epicenter of the Columbus downtown growth, revitalization and cultural transformation as well as helps us further our commitment to enrich public understanding of science through this enhanced visitor experience."
"We are delighted to bring the research of our scientists, the interpretive skills of our exhibition and education teams, and, of course, our world-renowned dinosaurs to audiences in Columbus through this unprecedented partnership with COSI," said Ellen V. Futter, President of the American Museum of Natural History. "This collaboration between a natural history museum and a science center offers a unique and powerful platform to further science education and science literacy at a time when they are more important than ever to our children, our nation, and our world. We are so pleased to bring the wonder and majesty of dinosaurs and natural history to a community that shares the Museum's educational goals, and we salute all those who have made this ground-breaking initiative possible."
As one of the premier cultural institutions in the world, the American Museum of Natural History has established research, exhibition, and educational collaborations around the world, but this is the first partnership of its kind with a science center and was made possible due to a $5 million investment from the State of Ohio and a $2 million gift from Abigail and Leslie Wexner.
"The American Museum of Natural History is without question the best possible partner COSI could have in bringing the wonders of the natural world to this region," said Leslie Wexner. "The debut of American Museum of Natural History dinosaurs at COSI is another important step in the transformation of downtown Columbus made possible by $2 billion in private and public investment over the last ten years. This collaborative investing has created vibrant places to work, live and gather in the core of our city. It's particularly exciting that there's even more to come with the opening of the National Veterans Memorial Museum and the reimagining of the Scioto Peninsula. Columbus is on an incredible roll."
With an eye on growing COSI's audience and enhancing Columbus's downtown peninsula as a destination, civic and community leaders, the Columbus Downtown Development Corporation and the City of Columbus and the State of Ohio collaborated to deepen programming in the Scioto Mile region. A partnership between COSI and the American Museum of Natural History was one of the outcomes. The strength of the Museum's exhibitions and educational offerings made it the ideal choice for this unique partnership.
"This is a moment of great pride for Columbus," said Mayor Andrew J. Ginther. "COSI is a beloved Columbus institution and one of the most respected science centers in the nation, drawing more than 660,000 visitors a year to the Scioto Peninsula. This new partnership for COSI is expected to dramatically boost visitor frequency while also drawing visitors from farther away. We welcome this new Dinosaur Gallery to our downtown as well as the increased economic activity that will accompany these prehistoric creatures."
"When CDDC first began working on this collaboration with the American Museum of Natural History and COSI several years ago, we believed that a natural history experience would elevate the cultural options on the Scioto Peninsula," said Guy Worley, President/CEO of the Columbus Downtown Development Corporation. "Now, with the American Museum of Natural History Galleries poised to open, along with the new Scioto Peninsula Park and underground garage, that dream is becoming reality. The celebrations will continue next year, with the grand opening of the National Veterans Memorial and Museum and the groundbreaking for the mixed-use development. Thanks to public/private partnerships, the Scioto Peninsula is set to become the next great destination neighborhood."
The adjacent American Museum of Natural History Special Exhibition Gallery, which will feature special exhibitions on a rotating basis, is set to open in March 2018 with the installation of Traveling the Silk Road: Ancient Pathway to the Modern World, a fascinating exhibit showcasing one of the greatest trading routes in human history, highlighting the migration of peoples from one land to another – a very modern-day topic.
For more information about the American Museum of Natural History Dinosaur Gallery, visit
http://cosi.org/dinosaurs
.
About COSI
COSI, the Center of Science and Industry, located in Columbus, Ohio, is one of the most respected and exciting science centers in the nation. Since 1964, COSI has been providing world-class experiences and engaging programing to inspire interest and excitement around all things science, technology and engineering for people of all ages. From hands-on interactives on the museum floor and state-of-the-art planetarium and movie theater spaces, to its Center for School and Community Partnerships, COSI delivers science and science educational experiences both in its building and far beyond its walls. As a center piece of Columbus's Downtown Peninsula, COSI stands as a leading cultural institution and destination attraction for regional, national and international audiences.
About the American Museum of Natural History (amnh.org)
The American Museum of Natural History, founded in 1869, is one of the world's preeminent scientific, educational, and cultural institutions. The Museum encompasses 45 permanent exhibition halls, including the Rose Center for Earth and Space and the Hayden Planetarium, as well as galleries for temporary exhibitions. The Museum's five active research divisions and three cross-disciplinary research centers support approximately 200 scientists, whose work draws on a world-class permanent collection of more than 34 million specimens and artifacts, as well as specialized collections for frozen tissue and genomic and astrophysical data, and one of the largest natural history libraries in the world. Through its Richard Gilder Graduate School, it is the only American museum authorized to grant the Ph.D. degree, and beginning in 2015, the Master of Arts in Teaching (MAT) degree, the only such freestanding museum program. Annual visitation has grown to approximately 5 million, and the Museum's exhibitions and Space Shows are seen by millions more in venues on five continents. The Museum's website, mobile apps, and MOOCs (massive open online courses) extend its scientific research and collections, exhibitions, and educational programs to additional audiences around the globe. Visit amnh.org for more information.
About Columbus Downtown Development Corporation
Created in 2002, CDDC is a private, non-profit development corporation formed to lead city-changing projects in the heart of Ohio's capital city. CDDC led redevelopment efforts have achieved national recognition and include the landmark Lazarus Building, The Scioto Mile, Columbus Commons and Scioto Greenways.
# # #