Ohio Library Council and COSI will distribute thousands of COSI Learning Lunchbox Kits to Each Library District in Ohio as Part of Ohio Distance Learning Initiative
COLUMBUS, OHIO – The Center of Science and Industry (COSI), the top-ranked science center in the country by USA Today's 10Best, and the Ohio Library Council have launched a new program to distribute over 12,000 COSI Learning Lunchbox STEAM kits to each of Ohio's 251 library districts this summer to support youth learning across the state.
Studies show
that the COVID-19 pandemic has created learning loss and disparities in learning. The Ohio Distance Learning Initiative is an innovative program led by COSI and the state of Ohio, as well as an unprecedented collaboration of meal providers, libraries, museums, and cultural institutions across the state to deliver 50,000 free, hands-on science kits called Learning Lunchboxes to help bridge the gap. These boxes, historically created to be distributed alongside meal programs, provide five activities aligned with Ohio's learning standards and promote science, technology, engineering, arts, math (STEAM), culture, history, and more. The Learning Lunchboxes are tailored to specific themes, such as Space, created in partnership with NASA. COSI is also distributing a limited number of free kits to each of Ohio's 611 school districts to help enhance in-class learning.
"This summer is an all hands on deck moment to provide critical learning as we come out of this global pandemic. We must all work together to help bridge the education gap, especially for those who are underserved and were disproportionately impacted by the pandemic. We are excited to partner with the Ohio Library Council and hundreds of libraries across our great state this summer to serve families and youth,"
said Dr. Frederic Bertley, President and CEO, COSI
.
"We appreciate COSI's leadership and partnership to work with Ohio libraries to deliver fun, hands-on learning to Ohio's youth this summer. Ohio libraries are critical community anchors and this partnership with the top science center in the nation will create learning opportunities across all corners of our state. This demonstrates the power of partnerships when we bring people together around a common goal of serving our youth,"
said Michelle Francis, Executive Director, Ohio Library Council
.
To date, COSI has distributed over 45,000 Learning Lunchbox kits to serve students, families and underserved youth. Throughout the pandemic, COSI has been engaging with the community through COSI Connects, COSI's digital doorway to online learning; the COSI Learning Lunchbox, kits filled with hands-on science activities; the new "COSI on Wheels: Curbside Edition," The Color of Science: Digital Edition and QED with Dr. B, a WOSU-COSI prime time science television show.
COSI is now open Thursdays through Sundays, 10am – 5pm. To find out more about these programs and its new upcoming exhibit, The Animation Academy, and to reserve your tickets to visit COSI online, please visit
cosi.org
.
The Ohio Library Council is the statewide association representing Ohio's 251 public library systems (rural, urban, and suburban) and the 8.4 million library cardholders they serve.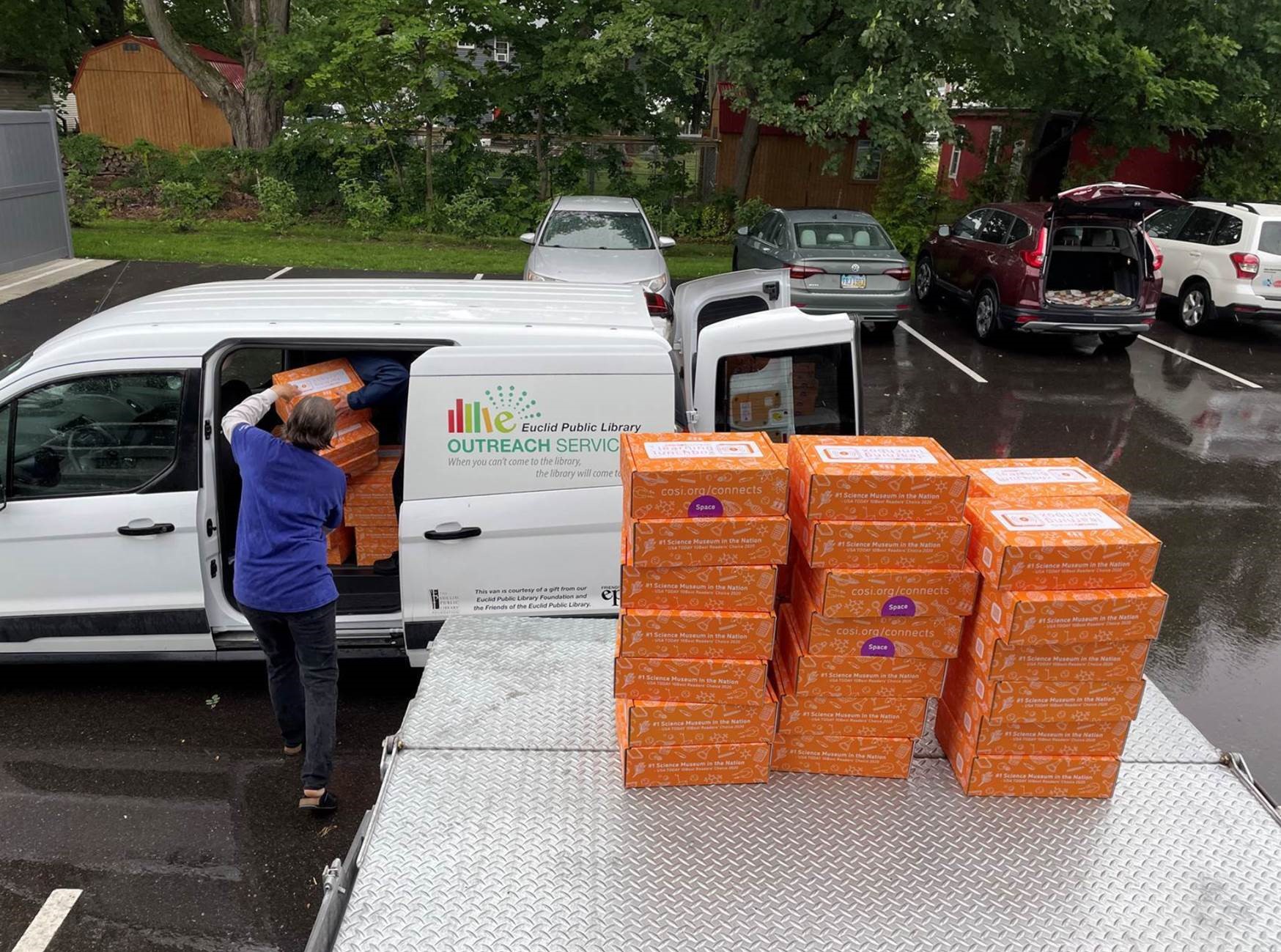 Euclid Public Library receiving first batch of over 12,000 STEAM kits that will be delivered across 251 library districts this summer.