COSI's Science of Team Building – An inspiring and innovative way to energize your team
Open channels of creativity, break down communication barriers, work together to solve a common problem – all in a fun and engaging learning experience through The Science of Team Building.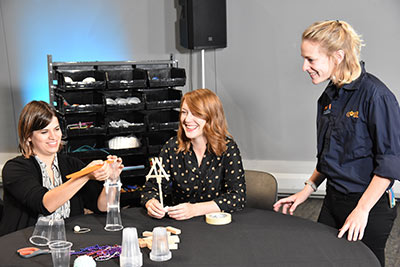 COSI's Science of Team Building uses hands-on science exploration to provide team building in a fun, collaborative and educational setting featuring three modules that can be combined for a robust full-day experience or segmented for a half-day or 2 hour-long workshop. This innovative and inspiring program includes an interactive presentation, table-top science and an engineering challenge that will have your team buzzing as they work together toward success. We allow time for discussion and reflection for the concepts to be fully explored and post-event follow-up resources provided by a COSI facilitator to help your team apply what they learned.

Whether you want to target communication, critical thinking, team bonding or just want to have fun, our COSI facilitator will work closely with your program coordinator to make sure your specific goals are met. By using science, our COSI team will inspire you to reflect on how you can improve yourself, and your life at work.

COSI's Science of Team Building can be added to an event you are planning to have at COSI or we can bring it to your location. We can serve your group, from 25-250 people!
Interactive Presentation
When COSI comes to you, we bring you our signature engaging, educational and exciting way of learning! During this 30-minute interactive presentation, our COSI facilitator will explore office culture and teamwork using hands-on demonstrations, unforgettable experiments, and – of course – explosive science! Allow 30-35 minutes for this module.



Table-Top Science
Get hands-on with the science of teamwork in COSI's Table-Top Science session, where your team will engage with five different challenges to explore communication, creativity, collaboration, and problem-solving. Write codes to program real hand-held robots, build circuits, and even engineer a suspended contraption in COSI's wind tubes! During this open-exploration, hands-on session, teams will step through the scientific method in the form of fun, self-directed, and unforgettable experiences. Allow two hours for this module.
Engineering Challenge
Divided into teams, groups will be tasked with creating one-of-a-kind chain reaction machines. This portion of the program encourages communication and collaboration between team members while challenging each individual to examine their specific roles in a group. If innovation, ingenuity, and problem-solving are essential skills in your workplace, this challenge is right up your alley! Allow two hours for this module.
Reflection and Wrap-Up
After a fun day of learning, your team will want to take some time to absorb and reflect on what they learned. We will allow time at the end of the day for group discussion and personal journaling to help team members consider what they learned, how they want to put it into practice and next steps. Allow 30 minutes for this activity.



For more information, pricing and registration, email Alex Wilkins at

This email address is being protected from spambots. You need JavaScript enabled to view it.