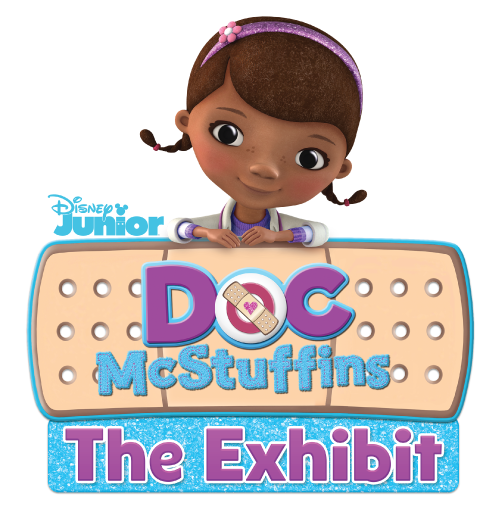 The Doc is In!
October 1, 2022 - January 3, 2023
Experience the first-ever children's museum exhibit based on Disney Junior's award-winning series, Doc McStuffins. Join the magical storytelling of Doc McStuffins as you help Doc and her friends in the McStuffins Toy Hospital! There are toys that need check-ups in the ER, toy pets who need to be groomed at the Pet Vet, baby dolls that need to be fed in the Nursery, and so much more. Through imaginative play and activities, children learn important life-lessons about health and wellness. There is so much you can do to take care of you!

Doc McStuffins: The Exhibit is included with General Admission to COSI.

Disney character live appearances are not part of the exhibit.
Doc McStuffins: The Exhibit immerses children and families in the Doc McStuffins universe of stories and characters. It features the McStuffins Toy Hospital environment and offers families an opportunity to explore the hospital, assume doctor play roles, and help solve problems, all while learning lessons about healthy habits, empathy, and nurturing care.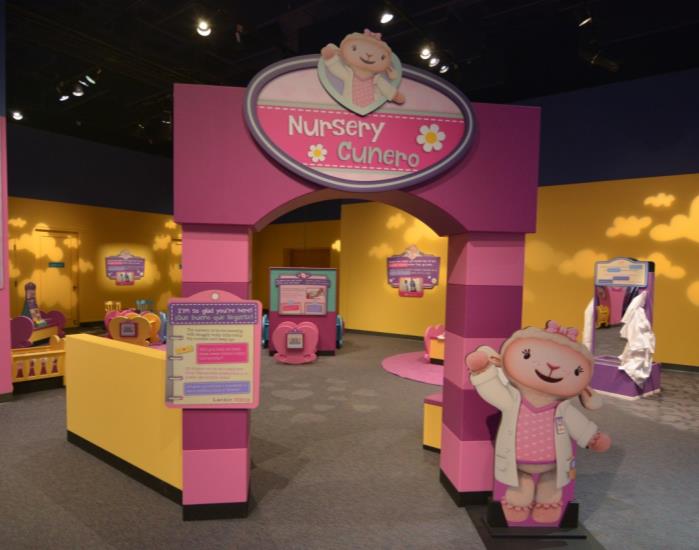 Nursery - Hosted by Lambie
In this toy hospital nursery environment, visitors are welcomed by a message from Lambie. Lambie invites families to participate in activities that encourage the use of empathy and the practice of nurturing behaviors to care for others.
Lead your baby doll through a naptime routine, including feeding a bottle, singing a lullaby, or rocking in the chair.
Tuck your baby into bed and adjust the nightlight.
Give your baby a bath and change its diaper.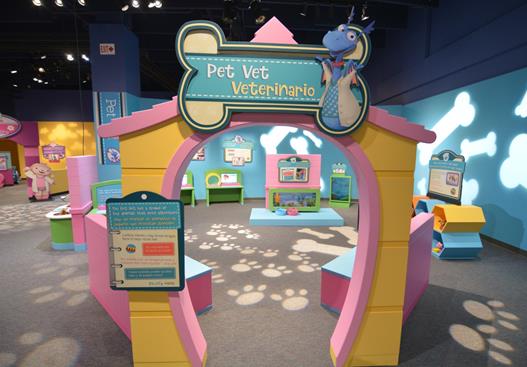 Pet Vet - Hosted by Stuffy
Families participate in a vet environment hosted by Stuffy. A message from Stuffy invites visitors to do activities that prompt the practice of nurturing behaviors and deliver messages about the special kinds of care and attention that pets need.
Scan your pet using a pretend CAT scan machine. Hear Doc's diagnosis and treatment for your pet.
Give your pet a pretend bath then dry and comb its hair.
Turn a crank to recharge your pet's energy level.
Change the "water" in the fish tank by filling it with new, clean balls.
Feed the fish using balls as pretend fish food.
Place your pet in its home so it can rest up.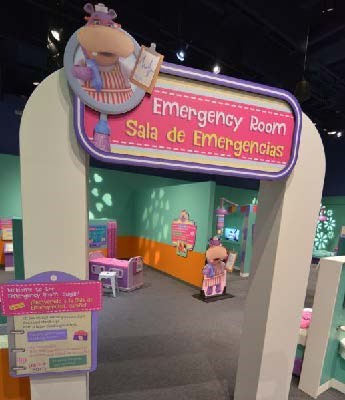 Emergency Room and Operating Room - Hosted by Hallie
In this Operating Room and Emergency Room environment, families are greeted by a message from Hallie, who appears in the space as a 2D graphic cutout. In her message, Hallie invites visitors to assist with the treatment of toy patients.
Set your toy on the check-up table and perform an exam.
Enter your patient's diagnosis in the Big Book of Boo Boos, then email it digitally to yourself.
Practice mending a ripped toy.
Scrub in for an operation.
Perform an operation.
Inflate a toy that's lost its air.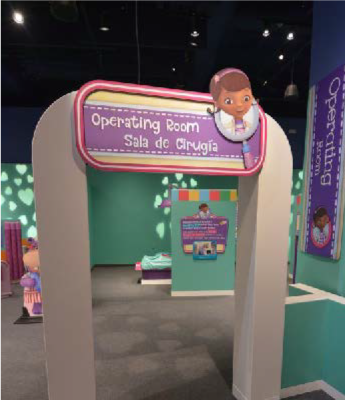 Produced by: Presented by: