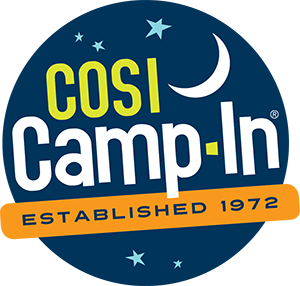 COSI Camp-In
The overnight program that lasts a lifetime!
Spend the night at COSI with Camp-In! Camp-In is the overnight camp experience that's perfect for Scouts, school groups, youth groups, and families of all sizes. Since 1972, COSI's Camp-In program has provided memorable educational experiences for girls and boys centered on science, technology, and teamwork. COSI's Camp-In was the first overnight program of its kind in the country!


Spend the night among the stars at COSI's Camp-In: It's Out of This World!
At this one-of-a-kind stellar sleepover, you'll get to explore COSI's world-class exhibits, test out hands-on astronomy experiments, learn more about our Solar System, and even explore the cosmos in COSI's Planetarium – the largest in Ohio! It's an astronomical overnight filled with memories to last a lifetime.
Ages:
Grades 1st through 12th
Fees:
$50 per camper
$50 per adult chaperone
This year's Camp-in Experience will Feature: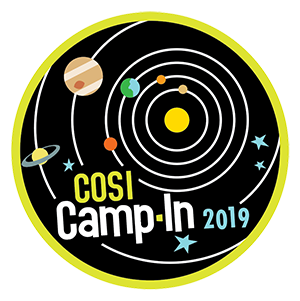 NEW THIS YEAR - Camp-In: It's Out of this Word Hands-On Gallery

Campers will be able to explore the universe from the comfort of our building through hands on activities! Design and launch rockets, use telescopes to study things far away, better understand the size of our universe and much more in this Camp-In EXCLUSIVE

By participating in the hands-on gallery…

o Girl Scouts can earn their Brownie Space Science Adventurer try-it and Junior Space Science Investigator Badge (badge is not included)




o Tiger Scouts can earn their Sky is the Limit Elective Adventure (badge is not included)




o School groups will meet both Ohio and Next Gen Science standards



All COSI classic exhibits including the following (excluding little kidspace).

American Museum of Natural History Dinosaur Gallery,
Dragons, Unicorns & Mermaids: Mythic Creatures is organized by the American Museum of Natural History, New York (amnh.org), in collaboration with the Australian National Maritime Museum, Sydney; Canadian Museum of History, Gatineau-Quebec; Fernbank Museum of Natural History, Atlanta; and The Field Museum, Chicago.
"Crocs – Ancient Predators in a Modern World was created by Peeling Productions at Clyde Peeling's Reptiland."

2 Days Admission to COSI
DANCEMANIA! - a larger than life dance party for all ages.
National Geographic Giant Screen Theater Film
A Planetarium Show
Evening Snack and Morning Breakfast COSI cannot accommodate food allergies
Unique Camp-In Fun Patch good for $5 off a return youth admission
Make a Reservation
Overnight Program Survival Guide
Overnight FAQ
---
---
COSI Camp-In 2019 Dates
Saturday February 16th – Co-Ed
Saturday February 23rd – Co-Ed
Friday March 1st – Co-Ed
Saturday March 2nd - Girls
Thursday March 7th – Co-Ed

Friday March 15th – Girls
Saturday March 16th – Co-Ed
Friday March 22nd - Girls
Friday April 5th - Girls
Thursday April 25th - Co-Ed

---
RESERVATIONS ARE NOW OPEN
For general questions regarding Camp-In you can contact the Manager of Camp Programs at This email address is being protected from spambots. You need JavaScript enabled to view it.. To make/update a reservation or to make a payment please call 614.228.2674.