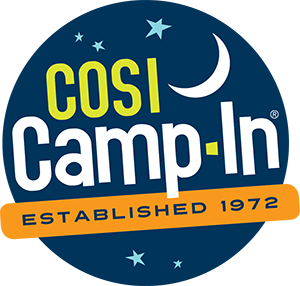 COSI Camp-In
The overnight program that lasts a lifetime!
Spend the night at COSI with Camp-In! Camp-In is the overnight camp experience that's perfect for Scouts, school groups, youth groups, and families of all sizes. Since 1972, COSI's Camp-In program has provided memorable educational experiences for girls and boys centered on science, technology, and teamwork. COSI's Camp-In was the first overnight program of its kind in the country!


Please check back in October for 2020 Camp-in Dates.
---
For general questions regarding Camp-In you can contact the Manager of Camp Programs at This email address is being protected from spambots. You need JavaScript enabled to view it.. To make/update a reservation or to make a payment please call 614.228.2674.