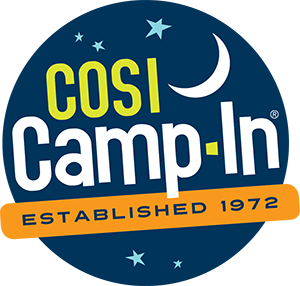 COSI Camp-In
The overnight program that lasts a lifetime!
Spend the night at COSI with Camp-In! COSI's overnight programs start in February 2018! NEW this year is a Camp-In Building Guide that assists with earning Boy Scout and Girl Scout Advancements. Camp-In also supports state and national academic content standards!
What is Camp-In?
Camp-In is the overnight camp experience that's perfect for Scouts, school groups, youth groups, and families of all sizes. Since 1972, COSI's Camp-In program has provided memorable educational experiences for girls and boys centered on science, technology, and teamwork. COSI's Camp-In was the first overnight program of its kind in the country! For general questions regarding Camp-In you can contact the Manager of Destination Programs at This email address is being protected from spambots. You need JavaScript enabled to view it. or at 614.965.0310 (text or call). To make/update a reservation or to make a payment please call 614.228.2674.
Make a Reservation
Camp-In Dinner Menu
Overnight Program Survival Guide
Overnight FAQ
---
---
Overnight COSI Camp-In Programs
For campers in grades 1-12
Spend the night at COSI! COSI's Overnight Camp-In Programs are perfect for Girl Scouts, Boy Scouts, youth groups, and families of all sizes.
This year's camp experience will feature: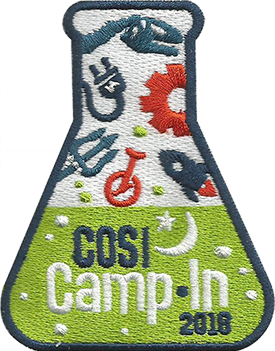 American Museum of Natural History Dinosaur Gallery - NEW
Dinosaur hallway activities
Motion Simulator – NEW
3 Days Admission to COSI
Souvenir Patch – Good for 1 free future youth admission
Boy/Girls Scout Guide that helps with earning advancements
National Geographic Giant Screen Theater Film
Planetarium Show
Live Shows and Demonstrations (Electrostatic Generator Show, Rat Basketball, Explosion Show)
Dancemania
Evening Snack and Morning Breakfast
A $95 Value all for $50 per camper
Reservations open now!
Fee: $50 per person
COSI Camp-In 2018 Dates
Friday February 16, 2018 - Co-Ed
Sat. March 10, 2018 - Co-Ed sold out/wait list only
Friday April 6, 2018 - Girls
Sat. April 14, 2018 - Girls sold out/wait list only
Thursday April 26, 2018 - Co-Ed
Friday May 18, 2018 - Girls sold out/wait list only
Saturday June 16, 2018 - Co-Ed
Check-in begins at 5:30pm. Your Camp-In program continues until COSI closes the following day. COSI closes at 5pm Monday - Sunday. The Atomic Cafe will be open and have a limited menu that you can purchase your dinner that evening. No pre-orders are needed. Menu to be posted soon!