Olivia Aguilar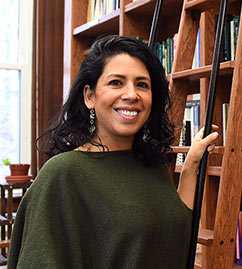 Dr. Aguilar is an Associate Professor in Environmental Studies at Denison University. She teaches a broad spectrum of Environmental Science courses, including core courses and some that examine issues at the intersection of environment, education, race/ethnicity, and community. Specifically, her work examines how sociocultural learning theories help to account for learning of marginalized groups in environmental and science contexts through community approaches. Her recent endeavors also involve a critical analysis of inclusive practices in the environmental arena.
Ozeas Costa, Jr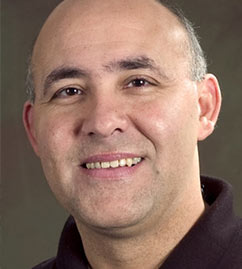 Dr. Costa is an Associate Professor at The Ohio State University. His research is primarily focused in the measurement and identification of natural and anthropogenic process that control the cycling of nutrients in aquatic and terrestrial systems. He has researched excess nutrients in nearshore/ offshore coral reefs of Brazil, as well as water contamination. He is a member of the American Society of Limnology and Oceanography, and has been on the OSU faculty since 2006.
Carlos A. Gomez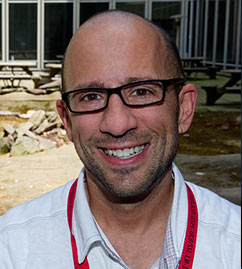 Carlos is a software Engineer at NASA's Goddard Space Flight Center. He graduated from the University of Puerto Rico with a B.S. in Electrical Engineering, and went straight to NASA. Carlos currently manages the overall design and integration of the ground system for the Mars Atmosphere and Volatile Evolution (MAVEN) project. The MAVEN spacecraft will orbit Mars for a year and will explore its upper atmosphere, ionosphere, and interactions with the Sun and solar wind. This is the first Goddard-led Mars mission, and after the launch he will be the Missions Operations Manager.
Sidney M. Gutierrez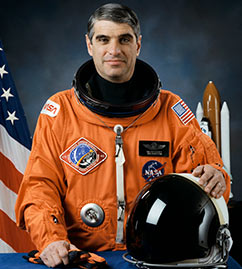 In June 1991, Sidney M. Gutierrez became the first U.S.-born Hispanic astronaut to travel into outer space. Gutierrez's second flight into space took place in April 1994, when he served as commander of the STS-59 Space Shuttle mission. This assignment made him the first person of Hispanic descent to command a spacecraft.
Scarlin Hernandez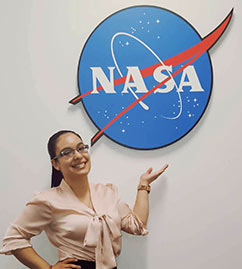 Scarlin is a spacecraft engineer for the James Webb Space Telescope. She tests and verifies ground software systems that are used to control telescopes while in space, one of which controlled the telescope when it is launched into space in October 2018. The telescopes will be used to discover new planets and the first stars after the dark ages. She completed an internship at NASA's Goddard Space Flight Center, and by the age of 20, she was part of the ground control system team for the Tropical Rainfall Measuring Mission (TRMM) satellite.
Roman Lanno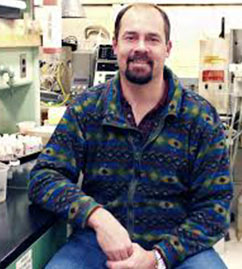 Dr. Lanno is a Researcher and Associate Professor at The Ohio State University. He and his team research the bio-availability of chemicals in the environment. Their primary focus is on soil-chemical interactions and the relationship between kinetics and residues of chemicals, such as biomarkers in both aquatic and terrestrial environments. He has used fish and isopods as models when examining bio-availability.
Ellen Ochoa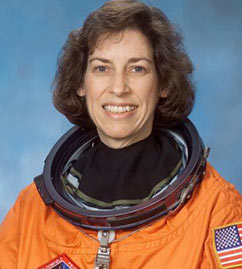 Dr. Ellen Ochoa, a veteran astronaut, was the 11th director of the Johnson Space Center. She was JSC's first Hispanic director, and its second female director. Her previous management roles include Deputy Center Director and Director of Flight Crew Operations. In 1993 Ochoa became the first Hispanic woman in the world to go to space when she served on a nine-day mission aboard the shuttle Discovery.
Geisha Williams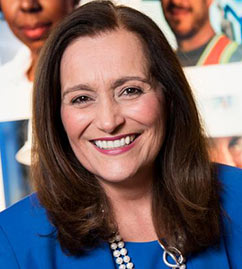 Geisha Williams is a Cuban American businesswoman. At the age of five, she migrated to the US with her parents. She earned a bachelor's degree in industrial engineering from the University of Miami and an MBA from Nova Southeastern University. She went on to become the first Latina to be president and CEO of a Fortune 500 company when she was selected to lead Pacific Gas and Electric Company, a nearly $30 billion firm with 20,000 employees that provides electricity and natural gas to about 16 million people in California. Williams joined PG&E in 2007 to oversee the company's electric operations before she was named President and CEO 10 years later.