Historical Figures in Science
Benjamin Bannekar
Mathematician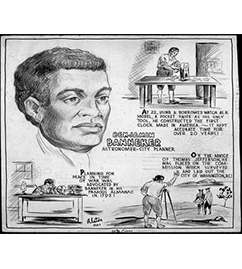 Benjamin Banneker was a free African-American almanac author, surveyor, mathematician and farmer. Born in Baltimore County, Maryland, to a free African-American woman and a former slave, Banneker had little formal education and was largely self-taught. Banneker's knowledge of astronomy helped him author a commercially successful series of almanacs. He corresponded with Thomas Jefferson, drafter of the United States Declaration of Independence, on the topics of slavery and racial equality. Abolitionists and advocates of racial equality promoted and praised his works.
Patricia Bath
Ophthalmologist, Inventor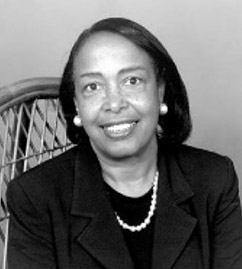 Patricia Era Bath was the first woman member of the Jules Stein Eye Institute, first woman to lead a post-graduate training program in ophthalmology, and first woman elected to the honorary staff of the UCLA Medical Center. Dr. Bath grew up in Harlem, New York and was inspired to get into science by her parents who bought her a chemistry set. She went on to invent the Laserphaco Probe, which was a procedure used for cataract surgery.
Marie Ban Britton Brown
Nurse & Inventor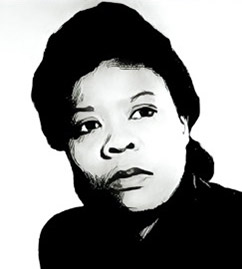 Did you know that the first home security system was invented by a Black nurse? Ms. Brown devised a system that would alert her of strangers at her door and contact relevant authorities as quickly as possible. Her original invention consisted of peepholes, a camera, monitors, and a two-way microphone. The finishing touch was an alarm button that, when pressed, would immediately contact the police. Her patent laid the groundwork for the modern closed-circuit television system that is widely used for surveillance, home security systems, push-button alarm triggers, crime prevention, and traffic monitoring.
Dr. Shirley Ann Jackson
Theoretical Physicist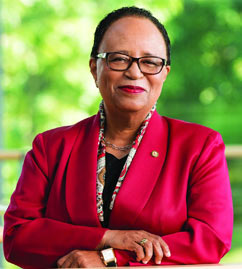 Dr. Jackson was the first African American woman to earn a Ph.D. from MIT in Theoretical Physics and the second to earn a doctorate in Physics in general. Her main contributions to science revolved around advancements in telecommunications that helped lead to the direct development of technologies like the portable fax machine, touch-tone phones and fiber optic cables and many more.
Katherine Johnson
NASA Research Mathematician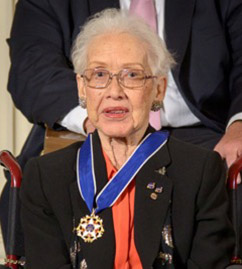 Katherine Coleman Goble Johnson is an African-American mathematician whose calculations of orbital mechanics as a NASA employee were critical to the success of the first manned spaceflight with Astronaut John Glenn, and subsequent U.S. manned spaceflights. Her work was highlighted in the critically acclaimed film, Hidden Figures.
Granville T. Woods
Inventor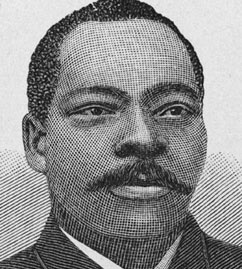 Known as "Black Edison," Granville Woods was an African-American inventor who made key contributions to the development of the telephone, street car and more. He was born right here in Columbus, Ohio in 1856. He held various engineering and industrial jobs before establishing his own company to develop electrical apparatus. He registered nearly 60 patents in his lifetime, including a telephone transmitter, a trolley wheel and the multiplex telegraph (over which he defeated a lawsuit by Thomas Edison). The patent for his telephone transmitter device, which combined the telephone and telegraph, was bought by Alexander Graham Bell, and the payment freed Woods to devote himself to his own research. One of his most important inventions was the "troller," a grooved metal wheel that allowed street cars (later known as "trolleys") to collect electric power from overhead wires.
Garrett Morgan
Inventor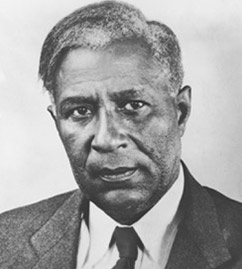 Those who survived either of the World Wars thanks to a gas mask have Garrett Morgan to thank. Morgan first created the "safety hood" to help firefighters navigate smokey buildings, later modifying it to carry its own air supply— making it the world's first effective gas masks. He also had the good sense to add a third position to the traffic signal — yes, there was a time when traffic signals just indicated "stop" or "go" — an addition that further reduced automobile accidents.
Marie Maynard Daly
Chemist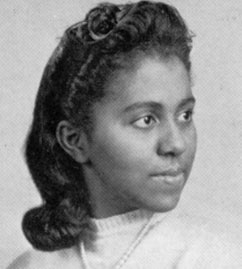 In 1947, Daly became the first African American woman to receive a doctorate in chemistry in the United States. Overcoming the dual hurdles of racial and gender bias, Marie Maynard Daly (1921–2003) conducted important studies on cholesterol, sugars, and proteins. In addition to her research, she was committed to developing programs to increase the enrollment of minority students in medical school and graduate science programs. In 1988 she established a scholarship fund for African American science students at Queens College in honor of her father.
Contemporary Scientists
Donna Bell
Engineer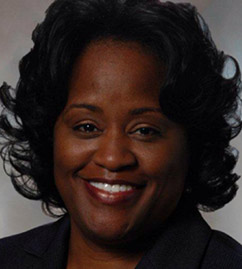 Donna Bell is currently the Chief of Staff and Director of Research Operations at Ford Motor Company. She was recently named the 2018 Technologist of the Year by the Women of Color in STEM Conference. Donna is an experienced engineer and collaborative leader with more than 25 years of demonstrated history delivering first-to-industry technology in the automotive and mobility industry. She recently came to COSI to speak about her experience as a minority in the engineering field at our Color of Science Program Launch!
Dr. Tiffani Johnson
Faculty Scholar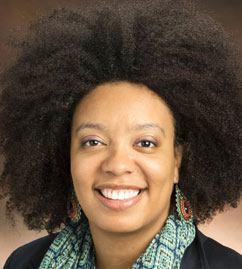 Tiffani Johnson is a faculty scholar at PolicyLab at Children's Hospital of Philadelphia. Dr. Johnson is an expert in pediatric emergency care and ethnic health care disparities and helped to build the foundation of PolicyLab's Health Equity Portfolio. Her research, focused on investigating disparities in the emergency department and pre-hospital settings, reflects her commitment to improving the quality of care for underserved children. Dr. Johnson's long-term research goal is to reduce racial and ethnic disparities in pediatric emergency care through sequential phases of research that involve identifying and exploring the root causes of disparities, and developing and implementing interventions to reduce disparities.
Lisa Stephens
Giant Panda Curator at The National Zoo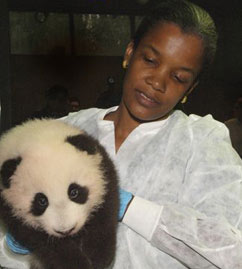 As manager of the giant panda program for the past 20 years, she often spoke to the public and to media about how the little ball of furry cuteness was faring. Before joining the zoo's staff, she held positions as a field research assistant, in pet and aquarium retail, veterinary clinic operations, insect zoo husbandry and interpretation, and riding stable management (she's an avid rider and horse owner). She has a bachelor's degree in zoology and pre-veterinary medicine from Michigan State University and attended the AZA School for Professional Management Development for Zoo and Aquarium Personnel.
Will Burrus
Entrepreneur, President & CEO - Immersive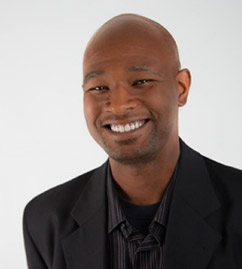 Will Burrus is a visionary technology entrepreneur and executive, known for taking highly complex technology concepts and translating them into practical and accessible business opportunities for everyone. Will has founded seven companies, providing innovative solutions to critical challenges in healthcare, the music industry, human resources and most recently, augmented and virtual reality. He recently came to COSI to speak about his experience as a minority in the technology industry at our Color of Science Program Launch!
Lisa Gelobter
Inventor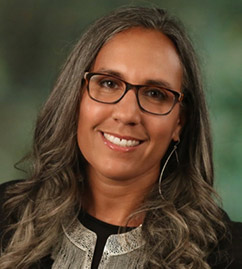 Have you ever enjoyed an animated Gif on the web? If so, you have Lisa Gelobter to thank! Gelobter was integrally involved with the advent of Shockwave, a technology that formed the beginning of web animation. Previously, Lisa was the Interim Head of Digital for BET Networks and ran Technology, Product and Business Operations. Today, you can catch Lisa at the White House, in the United States Digital Service. She is currently serving as the Chief Digital Service Officer with the US Department of Education.
Dr. Quinn Capers
Interventional Cardiologist at The Ohio State University Wexner Medical Center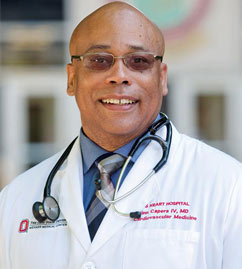 As an interventional cardiologist, Dr. Capers is trained to treat the entire spectrum of heart disorders. He performs procedures to open blocked arteries in the heart. These often involve advancing a catheter (tube) from the wrist up to the heart and using balloons, stents and other devices to open up the arteries. He enjoys caring for heart attack patients during the emergency and afterwards, especially through the years of follow-up. Dr. Capers was rated in the top 10 percent of physicians in the nation for patient satisfaction, 2014, 2015, 2017, 2019. Dr. Capers was recently a panelist in COSI's Color of Science program, which highlights the stories and contributions of people of color to modern science and technology.
Lonnie Johnson
Aerospace Engineer & Inventor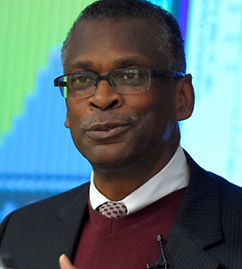 Lonnie Johnson is an inventor and engineer who holds more than 120 patents. He is the inventor of the Super Soaker water gun, which has been among the world's bestselling toys every year since its release. After he graduated with a Masters degree in Nuclear Engineering from Tuskegee University, Johnson joined the U.S. Air Force, where he worked on the stealth bomber program. Later, he worked at NASA's Jet Propulsion Lab with the nuclear power source for the Galileo mission to Jupiter.
Betty Pace
Sickle Cell Researcher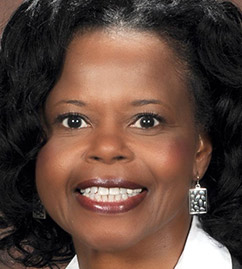 Dr. Pace, a sickle cell disease researcher, is the Interim Chief of the Pediatric Hematology/Oncology Division, Francis J. Tedesco Distinguished Chair, and Director of the Pediatric Sickle Cell Program at the Medical College of Georgia at Augusta University in Augusta, Georgia. Dr. Pace has dedicated significant time to mentoring and promoting diversity in hematology research and In 2017, the American Society of Hematology honored her with its inaugural Award for Leadership in Promoting Diversity.
Warren Washington
Atmospheric Scientist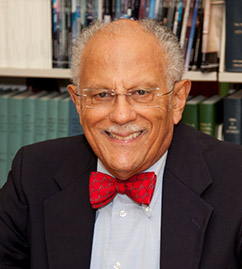 Dr. Warren Washington is one of the first developers of groundbreaking atmospheric computer models which predict future states of the atmosphere, and his work has helped scientists understand climate change. Washington has engaged in research for over 50 years, and has given advice, testimony, and lectures on global climate change.