Author: Jaclyn Reynolds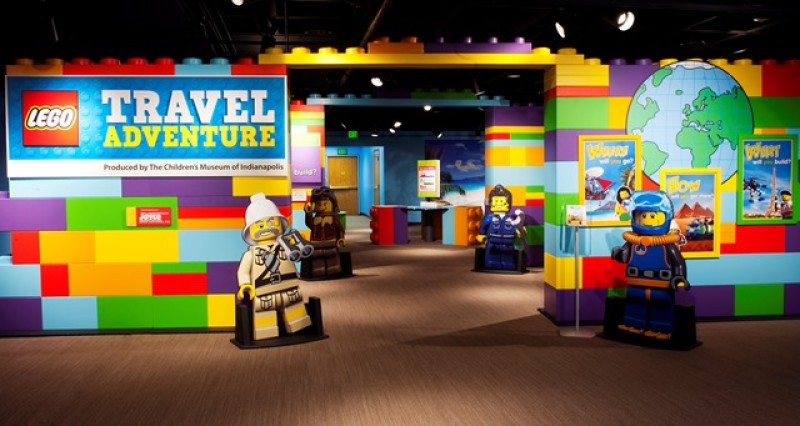 Columbus, OH –
There are many different ways to travel where you need to go and in the LEGO Travel Adventure exhibit, visitors are invited to create vehicles capable of flying, driving, and floating – or all three! To go on a travel adventure to exotic locations, children are asked to think creatively, plan, and build vehicles to move through all kinds of terrain – mountains, oceans, jungles, deserts, and more. Dioramas featuring Florida, Hawaii, Paris, and San Francisco will help serve as inspiration for creating vehicles with wheels, wings, masts, and more. LEGO Travel Adventure features creations by LEGO Master Builders including recreations of the driving of the Gold Spike in the Transcontinental Railroad, the building of the first Model T, the Wright Brothers flight at Kitty Hawk, and an ocean liner. Children can also have their photo taken behind the wheel of a kid-size racecar created entirely out of LEGO® DUPLO® bricks.
Also included in the exhibit is a diorama featuring the Travel Adventure Vehicle (T.A.V.), a hybrid LEGO brick vehicle created specifically for the new exhibit by LEGO Master Builder Stephen Gerling. In keeping with the theme of the exhibit to create vehicles capable of taking children and families anywhere their imagination can go, the T.A.V. is equipped with all of the right vehicle parts to travel across land, underwater, and in the air. The diorama includes several versions of the vehicle traveling across many terrains including over roads, up a mountain, underwater and taking off for a ride through the sky! In addition to the diorama, a full-size version of the T.A.V. is also available for families to go on an adventure together inside.
Age-appropriate build tables featuring LEGO systems bricks and LEGO DUPLO bricks are available in the exhibit for children to create their own vehicles. Visitors are also invited to take photos of their exhibit creations to share in social media using #LEGOatCOSI.
Produced by The Children's Museum of Indianapolis in cooperation with LEGO Systems, Inc. LEGO and the LEGO logo are trademarks of the LEGO Group. © 2015 The LEGO Group. All rights reserved.
About COSI
COSI, the Center of Science and Industry located in Columbus, Ohio, is one of the most respected science centers in the nation — engaging more than 33 million people through both on-site and off-site programs since 1964. Parents Magazine named COSI the #1 Science Center in the Country. COSI's programs and world-class experiences inspire an interest in science encouraging people to want to learn more about their world. Read more at cosi.org.
About The Children's Museum of Indianapolis
The Children's Museum of Indianapolis is a nonprofit institution committed to creating extraordinary family learning experiences across the arts, sciences, and humanities that have the power to transform the lives of children and families. For more information about The Children's Museum of Indianapolis, visit www.childrensmuseum.org, follow us on Twitter@TCMIndy, Facebook.com/childrensmuseum, and YouTube.com/IndyTCM.
About LEGO Systems, Inc.
The LEGO Group (www.LEGO.com) is a privately held, family-owned company, based in Billund, Denmark. Founded in 1932, it is today one of the world's leading manufacturers of play materials for children. The company is committed to the development of children's creative and imaginative abilities through its products, which can be purchased in more than 130 countries.