Author: Jaclyn Reynolds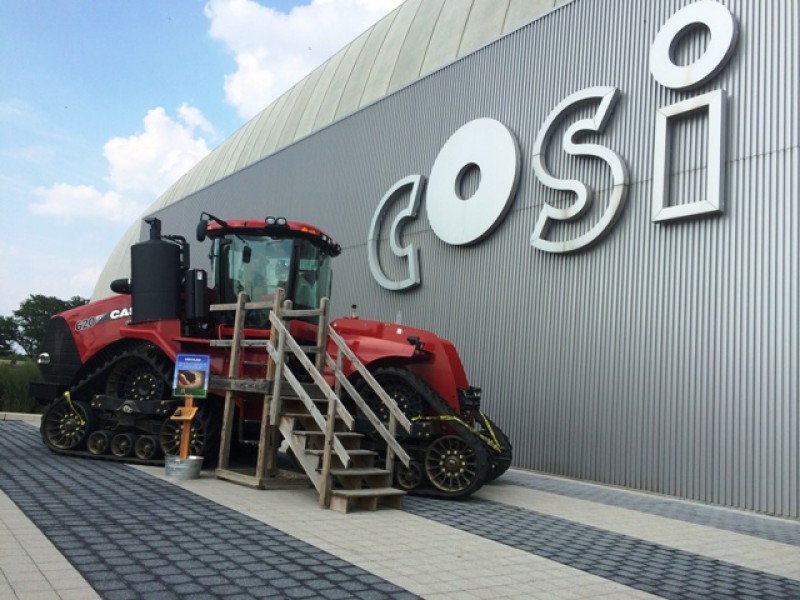 COLUMBUS, OH –
COSI celebrates 10 years of bringing the farm to the city with Farm Days: Little Seeds, Big Tractors Wednesday, August 6 through Sunday, August 10. Farm Days features huge farming equipment, including a Case IH Quadtrac machine which uses rubber treads instead of tires, arranged on the west side of COSI and activities related to Ohio's largest industry: food and agriculture.
During Farm Days, visitors can ask farmers how food is grown and climb into the cabs of tractors, a combine, and even small farm equipment. Kids can test their driving skills on a pedal tractor obstacle course, try milking COSI's fiberglass cow (Daisy), make a seed necklace, observe live bees in their hive, and collect Farm Days trading cards to take home. There will also be an interactive combine simulator from the Ohio Farm Bureau in which kids can "plant" and "harvest" crops. These activities help emphasize the importance of agriculture technology to feed a growing world population and highlight the stories of local farmers who raise everything from sheep to soybeans.


"Farm Days started with a conversation ten years ago with the Franklin County Farm Bureau and grew from there," said Jen Cassidy, Vice President of Programs at COSI. "It's a hugely popular event at COSI. Our visitors learn a great deal about Ohio's agriculture story from farmers, the equipment they use, and the technology."
"Farm Days is a great way to bring the farm to the city and connect local agriculture to COSI visitors," said Neall Weber, Franklin County Farm Bureau. "Asking a farmer how your food is grown or climbing on the equipment that helps Ohio's largest industry makes that connection with people and emphasizes the importance."
COSI's popular "Path of a Farmer" game has been updated for even more fun: guests receive a game card and collect stamps as they go through the seasons on a farm, spinning a wheel to see how the weather and market affect their farm profit - or loss!

Farm Days is open during normal COSI hours. COSI is open Monday through Saturday, 10am – 5pm and Sunday noon – 6pm through Labor Day. Admission to Farm Days is included with regular COSI admission or COSI Membership
.
This event is "grown" and made possible by Franklin County Farm Bureau, Farmer's Equipment, Case IH, and Bob Evans Farms, Inc. The event is supported by United Producers, Inc., The Ohio State University Extension, The Andersons, Ohio Corn and Small Grains Marketing Programs, Ohio Poultry Association, and the Ohio Soybean Council.