The Ultimate Window to the World
The National Geographic Giant Screen is your portal to explore science, culture, history and nature. Through the immersive experience of the giant screen, combined with 3D technology, Dolby surround sound and 4K projection providing the clearest, life-like images - you will be transported to the inside of a molecule, to the edge of space, to beautiful and distant lands.

Closed captioning is available in COSI's National Geographic Giant Screen Theater for films whose producers have provided it. Please contact a theater usher for assistance with these devices and services. Please contact COSI to learn which current films contain this resource.

Please note the shows begin promptly at the listed time.
Now Showing:

Oceans: Our Blue Planet

It is time to embark on a global odyssey to discover the largest and least explored habitat on earth. New ocean science and technology has allowed us to go further into the unknown than we ever thought possible.

From the coastal shallows to deeper, more mysterious worlds, we reveal the untold stories of the oceans' most astonishing creatures. Learn More
Best for ages 7+ | Running Time 42 minutes | Shown in 2D
Showtimes:
Mar 30 - May 17: 1:00pm | 3:00pm

Now Showing:

Superpower Dogs

Join an immersive giant screen adventure to experience the life-saving superpowers and extraordinary bravery of some of the world's most amazing dogs. In this inspiring true story narrated by Chris Evans, our best friends are also real-life superheroes. Journey around the globe to meet remarkable dogs and their human partners who fight crime, protect endangered species and save lives in avalanches and earthquakes. As we discover the extraordinary abilities of dogs and the remarkable science behind their superpowers, we'll never look at our best friends the same way again! Learn More
Best for ages 7+ | Running Time 45 minutes | Shown in 2D
Showtimes:
Mar 30 - Sept 2: 12:00pm | 2:00pm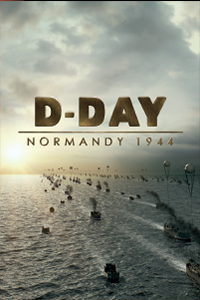 Cooming Soon:

D-Day: Normandy 1944

June 6, 1944: The largest Allied operation of World War II began in Normandy, France. Yet, few know in detail exactly why and how, from the end of 1943 through August 1944, this region became the most important location in the world. Blending multiple cinematographic techniques, including animation, CGI and stunning live-action images, "D-Day: Normandy 1944" brings this monumental event to the world's largest screens for the first time ever. Audiences of all ages, including new generations, will discover from a new perspective how this landing changed the world. Exploring history, military strategy, science, technology and human values, the film will educate and appeal to all. Narrated by Tom Brokaw, "D-Day: Normandy 1944" pays tribute to those who gave their lives for our freedom…A duty of memory, a duty of gratitude. Learn More
Best for ages 10+ | Running Time 45 minutes | Shown in 3D
Showtimes:
May 18 - May 24: 1:00pm | 3:00pm
June 6: 1:00pm | 3:00pm
Coming Soon:

Apollo 11: First Steps Edition

A thrilling giant-screen experience that showcases the real-life moments of the first lunar landing, Apollo 11: First Steps Edition takes you straight to the heart of this historic human endeavor. With never-before-seen 70mm footage and a trove of newly discovered audio recordings, the filmmakers reconstruct the Apollo 11 mission in astonishing detail. Audiences will experience the exhilarating final moments of preparation, the countdown, liftoff, landing and return of this historic mission—one of mankind's greatest achievements. Learn More
Best for ages 5+ | Running Time 47 minutes | Shown in 2D
Showtimes:
May 25 - Sept 2*: 1:00pm | 3:00pm
*No showings on June 6
New 4K Digital Projection System
COSI has the most cutting edge technology in digital projection with the recent installation of 4K projection which creates a larger, sharper, brighter image. COSI can now show the highest frame rate in the industry - 60 frames per second - the next frontier for digital movie making. Come see it for yourself!

More than Movies
COSI's partnership with National Geographic extends beyond the theater to bring you additional world-class programming and experiences. Watch for National Geographic speakers and workshops, as well as programs co-developed by National Geographic for COSI members and visitors.