The Ultimate Window to the World
The National Geographic Giant Screen is your portal to explore science, culture, history and nature. Through the immersive experience of the giant screen, combined with 3D technology, Dolby surround sound and 4K projection providing the clearest, life-like images - you will be transported to the inside of a molecule, to the edge of space, to beautiful and distant lands.

Closed captioning is available in COSI's National Geographic Giant Screen Theater for films whose producers have provided it. Please contact a theater usher for assistance with these devices and services. Please contact COSI to learn which current films contain this resource.

Please note the shows begin promptly at the listed time.
Now Showing:

Journey to Space 3D

In the past half century, humans have punched through the stratosphere, walked on the moon, and lived continuously in orbit. In the coming decades, our unquenchable curiosity will take our species beyond the cradle of Earth to touch the face of another world. Strap in for the next giant leap. Next stop … Mars! Narrated by: Patrick Stewart. Learn More
Running Time 45 minutes | Shown in 3D
Showtimes:
Sept 23 - Nov 12*: 1:00pm | 3:00pm
*Nov 2 11:00am Sensory Friendly Showing - (2D Showing, lower sound, higher light levels)
Now Showing:

Extreme Weather 3D

Weather is one of the most dynamic forces shaping our planet, but now it's more extreme and complex than ever. Extreme Weather takes us to the frontlines where few have gone. Travel to the edge of 300-foot tall glaciers collapsing, to the front lines of massive wildfires, directly in the path of deadly, yet mesmerizing tornadoes. Follow researchers and everyday heroes as they uncover surprising connections to help us understand and adapt to our ever-changing weather. Learn More
Running Time 39 minutes | Shown in 3D
Showtimes:
Sept 23 - Nov 12: 11:00am* | 2:00pm | 4:00pm
Nov 15 - Dec 17: 11:00am | 1:00pm | 3:00pm
Dec 20 - Jan 6: 12:00pm | 3:00pm | 6:00pm
*No 11am showing Nov 2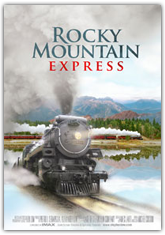 Now Showing:

Rocky Mountain Express

Rocky Mountain Express propels audiences on a steam train journey through the breathtaking vistas of the Canadian Rockies and highlights the adventure of building a nearly impossible transcontinental railway. Recruited to realize this venture—one of the greatest engineering feats of all time—were engineers and laborers from around the world. The film weaves together spectacular aerial cinematography, archival photographs and maps, and the potent energy and rhythms of a live steam locomotive to immerse audiences in this remarkable story from the age of steam. Learn More
Running Time 47 minutes | Shown in 2D
Showtimes:
Sept 23 - Nov 12: 12:00pm*
*Nov 2 Sensory Friendly Showing - (lower sound volume, higher light levels)
Coming Soon:

Flying Monsters 3D

Just as dinosaurs began their domination of Earth, pterosaurs ruled the prehistoric skies. Some with wingspans as long as a modern jet plane, these flying reptiles were as spectacular in appearance as they were amazing in flight. Join world-renowned naturalist and documentary filmmaker David Attenborough as he recounts the fascinating story of how we humans first discovered that these creatures were real and how they were even able to get off the ground and indeed soar...until their sudden disappearance from Earth. Learn More
Running Time 40 minutes | Shown in 3D
Showtimes:
Nov 15 - Dec 17: 12:00pm | 2:00pm | 4:00pm
Dec 20 - Jan 6: 11:00am | 2:00pm | 5:00pm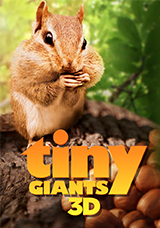 Coming Soon:

Tiny Giants 3D

Take an extraordinary adventure into magical worlds beneath our feet that most of us never see – one where life is lived at an extraordinary intensive pace, where everything we know seems turned on its head. Experience the hidden kingdoms of the Enchanted Forest and the unforgiving desert of the Wild West.

From BBC Earth, this is the story of a day in the life of two little heroes: a scorpion mouse and a chipmunk. For each of them this will be a day they never forget. It's a story of drama, danger and courage, of insight and revelation, a journey to discover and understand a new and fascinating natural history. Learn More
Running Time 46 minutes | Shown in 3D
Showtimes:
Dec 20 - Jan 7: 1:00pm | 4:00pm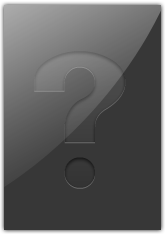 Now Showing:

Teacher's Choice Films

See the film on your choice from COSI's library of award-winning giant screen documentaries during your field trip or group visit. Available films.
Showtimes:
Daily: 10:05am
New 4K Digital Projection System
COSI has the most cutting edge technology in digital projection with the recent installation of 4K projection which creates a larger, sharper, brighter image. COSI can now show the highest frame rate in the industry - 60 frames per second - the next frontier for digital movie making. Come see it for yourself!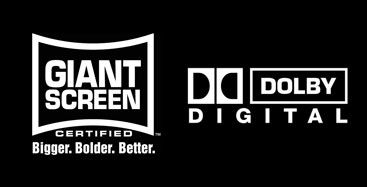 More than Movies
COSI's partnership with National Geographic extends beyond the theater to bring you additional world-class programming and experiences. Watch for National Geographic speakers and workshops, as well as programs co-developed by National Geographic for COSI members and visitors.