COSI Homeschool Labs invite homeschool-enrolled students ages five and up to join our monthly meet-ups to explore, measure, build, program, question, touch, and learn! Bone up on prehistoric creatures, program real robots, get hands-on with living local animals, and more. Each month, we'll introduce a new topic to explore, pairing a hands-on, standards-based workshop with complementary COSI experiences.
How it works:
Each month, COSI offers two selected dates of programming, so you can choose either the Thursday or Friday session, 12 pm – 2 pm on either day.
Once you've selected your date for the month, choose your color lab! These two simultaneous labs will take place in adjoining rooms. We recommend the Blue Lab

for learners aged 5 – 9

, and the Orange Lab

for learners aged 10 – 16

. (See the descriptions below for each to make the right choice for your student).
Register your learners for the Homeschool Lab! Siblings in different age groups may be split up by color labs, or you may choose to register them both for the same color lab if they wish to stay together. Please register your student(s) for whichever color lab session you expect them to actually be in – even if it's counter to our recommended age levels – so our attendance count for each is accurate!)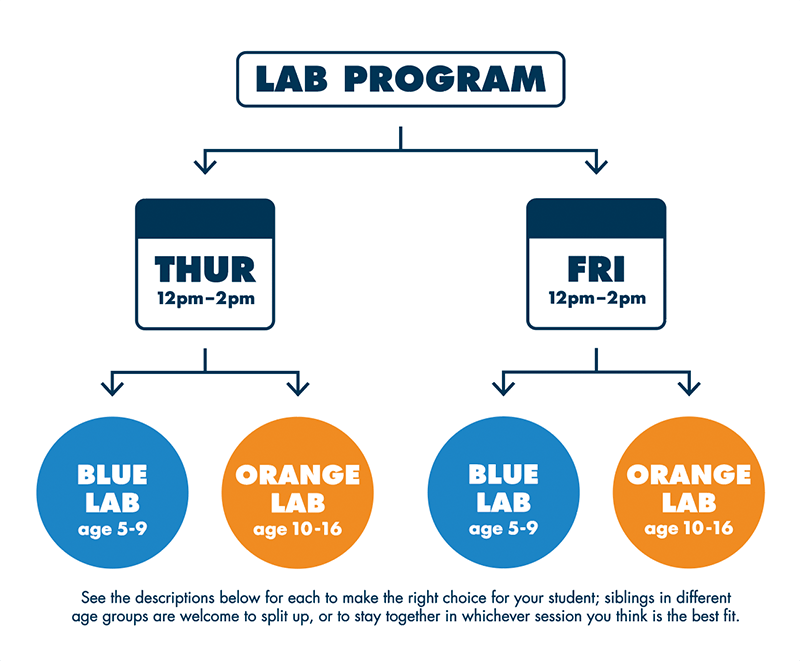 Please note that COSI General Admission is not included in the registration cost. COSI Members may check-in at the Member and Donor Services desk before or after the Lab, and non-members may purchase General Admission if desired. Home Educators qualify for COSI's Teacher Family Membership.

Selected COSI program reservations are subject to a nominal processing fee. Proceeds from this fee help to support COSI, a not-for-profit organization. For selected programs, transaction fees may be waived for COSI Members as a benefit of membership.
Registration: Registration for 2019-2020 Homeschool Labs opens May 24, 2019.
October 3 or 18, 2019 – Gadgets and Gizmos
Blue Lab – Put on your hard hat and construction vest as we explore engineering, circuitry, designing, and programming, and see how scientists use engineering to build taller, stronger, and better than before!
Orange Lab – Explore the ways that potential and kinetic energy power the world around us, experiment with gravity, and design, build, test, and redesign your own engineering contraptions to test in COSI's ten foot standing wind-tube.
November 7 or 22, 2019 – Robotics
Blue Lab – In this introductory course, we'll explore the role of robotics in science and use handheld Bee-Bots to participate in cross-curricular challenges.
Orange Lab – As part of a programming team, we'll use LEGO® Mindstorms® EV3 robots to complete multi-step computer-based programming challenges using math and angle measures.
December 5 or 13, 2019 – Inner Workings
Blue Lab – Explore body awareness, nutrition, and health as we become physicians to explore how our bodies work – inside and out – testing cardio exercise, balance, and our senses.
Orange Lab – Get "up close" with the human body as we explore broken bones, measure ourselves against record-breaking humans, and make "snot" to see why everything our bodies make – no matter how gross! – has a job to do.
January 9 or 24, 2020 – Physics and Forces
Blue Lab – Investigate gravity, magnetism, and chemical reactions as we experiment with the foundations of physics. Explore solids, liquids, and gasses, use real construction tools, and experience the "push" and "pull" of force in action.
Orange Lab – Transform our COSI classroom into an amusement park in this hands-on engineering challenge where you'll work in teams to design, build, and test your own marble-run roller coaster, then turn your creation into a must-ride.
February 6 or 21, 2020 – Discovering Dinosaurs
Blue Lab – "Roar, stomp, and explore" in this in-depth dig into the lives of dinosaurs. Together, we'll explore what we know about these ancient reptiles, then use our skills of observation to sort dinosaur eggs by their patterns and measure ourselves against actual-size dinosaur footprints.
Orange Lab – Become a paleontologist as we unearth the adaptations of dinosaurs and how they lived and died. We'll measure dinosaur strides, piece together Earth's geological layers, and use real excavation tools to explore in dig pits.
March 5 or 20, 2020 – Animals and Adaptations
Blue Lab – Meet and touch residents of COSI's living collection, then become a zoologist yourself to examine animal furs, construct paw print trails, see real animal X-rays, and experiment with living worms.
Orange Lab – Explore adaptations, behaviors, and classification as we meet living animals from COSI's collection, piece together life cycles, inspect arthropods, and see what we can tell about an animal by the scat it leaves behind.
April 2 or 17, 2020 – In-Depth Dissections
Blue Lab – In a Homeschool Lab exclusive, we'll dig into real owl pellets and use our scientific skills to determine what's inside.
Orange Lab – See things differently after we explore the incredible world within our eyes by dissecting a real cow's eye to compare it to our own.
May 7 or 22, 2020 – Crime-Stopping Science
Blue Lab – It's a bird! It's a plane! Nah, it's science! Put your powers to the test as we explore how the kinds of things that may seem possible only in the comics can be brought to life through science! We'll explore "levitation," make real clouds, and master the power of flight using chemical reactions!
Orange Lab – Become a forensic investigator as we turn COSI into a crime scene and investigate the real methods scientists use to uncover crimes. We'll explore real handwriting samples from famous ransom notes, separate ink to determine its origin, and use chemicals to determine the pH of unknown solutions.