Full-Day K-6 Outreach Program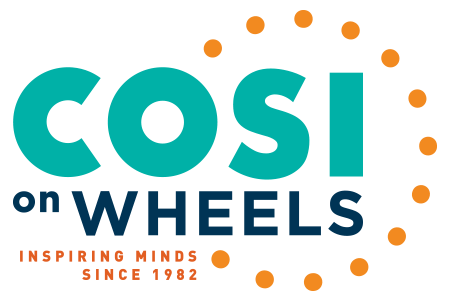 COSI On Wheels introduces dynamic science topics to your entire school (recommended for Kindergarten through 6th grade) with a high-energy assembly followed by exciting, interactive, hands-on activities. COSI on Wheels programs enhance inquiry skills, encourage curiosity, and spark interest in science, while easily fitting into your state's science standards!
Available Programs:

Experiment with electricity, magnetism, and motion while you help COSI's Inventor complete their greatest creation. Build circuits, create chain reactions, and move objects without touching them while learning more about forces and energy. ENERGY! Supports academic content standards in Physical Science.

This program is only available until August 7, 2020


Grade Level:
Grades K-6
Show Details >>

Explore the outdoors as our Outreach Educator brings the science of prairies, forests, rivers, and wetlands to your school. Investigate animal adaptations, life cycles, and learn how parts of an ecosystem are connected.

This program is only available until August 7, 2020


Grade Level:
Grades K-6
Show Details >>

Explore the scientific method, acids and bases, and chemical and physical changes as your students complete challenges to become Certified COSI Chemists. Get messy with non-Newtonian substances, endothermic and exothermic reactions, and other chemistry hands-on activities!


Grade Level:
Grades K-6
Show Details >>

Discover your place in the universe as a COSI educator guides students through their cosmic address, exploring the Earth, our Solar System and universe! Investigate constellations, telescopes, gravity and more!


Grade Level:
Grades K-6
Show Details >>
NEW! Human Body Program
Get an inside look at your own inner workings as a COSI Educator brings the science of the human body to life. Together, we'll explore the interconnected body systems that are hard at work when we move, eat, and even sleep!
Grade Level: Grades K-6

This program will be available for the 2020-2021 school year. More program details will be released this summer – stay tuned!
FAQs:
Q: What does COSI provide?
A:
A full-day experience for up to 500 participants in Kindergarten through grade 6
One COSI educator
All program materials
Q: What does my school need to provide?
A:
3-4 adult volunteers for set up the afternoon/evening before the program
15-20 adult volunteers for the entire program day
A large space sufficient to hold the students expected in the assembly (preferably a gymnasium or multi-purpose room)
10 (6' or 8') tables
Access to electricity and water
Q: How will the room be set up?
Q: What do we do if we have stairs leading into our gymnasium?
A: Make sure you have at least 6 adults (able to lift 50 pounds) for setup/tear down. All COSI on Wheels materials are on wheels, but can be lifted with enough help.


Q: What does a typical program schedule look like?
Q: When will the afternoon volunteers be trained by the COSI educator?
A: All volunteers should attend the 45-minute volunteer orientation at the beginning of the program day. If they can't be there in the morning, make sure there's a 10-15 minute overlap between your morning shift and afternoon shift so the morning volunteers can train their afternoon replacements.


Q: What do we do if we can't fit all 500 students into the program space for the assembly?
A: Another assembly can be scheduled within the program day. Please ensure that at least two hands-on sessions are scheduled after each assembly to allow adequate time for the COSI educator to reset the stage or clean up before the end of the school day.


Q: What do I do if I have more than 62 students in each hands-on session?
A: Hands-on sessions can be shortened to 30 minutes each. This allows for more sessions throughout the day. Most schools can fit a 45-minute assembly and 8 (30-minute) hands-on sessions into a normal school day.


Q: What do I do if my school has more than 500 students?
A: You can schedule two or more consecutive program days, or limit the number of grades participating in the COSI on Wheels program.


Q: Where do we eat lunch if we're using the cafeteria for COSI on Wheels?
A: Many schools have the students pack a lunch or pick up a lunch from the cafeteria to eat in the classrooms.


Pricing:
Full-day experience: $1090 Includes whole-school assembly and smaller hands-on sessions throughout the program day.
Please note:

There is a $2 processing fee for all program reservations.
A mileage fee will be applied to programs outside of Ohio's borders.
School must provide volunteers for setup, facilitation of activities, and tear down.
Assembly-only option: $490 Includes whole-school assembly without the hands-on sessions afterwards.
Additional assemblies available for $175.
Interested in this option? Email This email address is being protected from spambots. You need JavaScript enabled to view it.
Reservations:
2019-2020
Our availability for the remainder of the 2019-2020 school year is limited. Please email This email address is being protected from spambots. You need JavaScript enabled to view it. with the following details and we'll let you know if we have any programs/dates available in your area:
· School name and address
· Coordinator's name, email, cell phone number
· Number of students participating
· Grades participating
· Billing contact's name, email, phone number, address
· Programs ranked from first > last choice (It's Simply Chemistry, Exploring Ecology, Uncovering the Universe, Energy!)