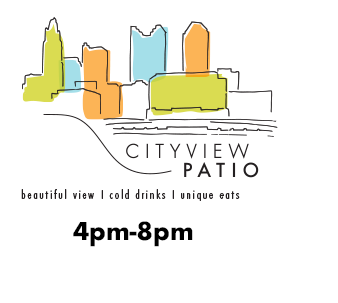 CITYVIEW PATIO
Enjoy a spectacular view of the Columbus skyline from the CityView Patio at COSI, open for refreshments on select Wednesday and weekend evenings this summer. Located on the east side of COSI facing the Scioto River, the CityView Patio sits outdoors in the heart of the Scioto Mile.

Take a break while enjoying the Scioto Mile's 33 acres of parkland and 1.5 miles of multiuse trails. Relax in outdoor seating under the shade of colorful umbrellas and enjoy the picture-perfect view of downtown Columbus in comfort. Beer, wine, and appetizers are available for purchase. COSI admission is not required to enjoy the CityView Patio.
CITYVIEW PATIO SCHEDULE (4pm - 8pm*):
August:
Saturday 11th (Latino Festival)
Sunday 12th (Latino Festival)
Saturday 18th (Duck Race)
Wed 22nd (Science Pub: 7pm-10pm)
*Unless otherwise stated. Please note CityView Patio may be closed in the case of inclement weather.
CITYVIEW PATIO SCHEDULE (4pm - 8pm):
August:
Saturday 11th (Latino Festival)
Sunday 12th (Latino Festival)
Saturday 18th (Duck Race)
Wed 22nd (Science Pub: 7pm-10pm)
Media partner: