The Ultimate Window to the World
The National Geographic Giant Screen is your portal to explore science, culture, history and nature. Through the immersive experience of the giant screen, combined with 3D technology, Dolby surround sound and 4K projection providing the clearest, life-like images - you will be transported to the inside of a molecule, to the edge of space, to beautiful and distant lands.


Please note the shows begin promptly at the listed time.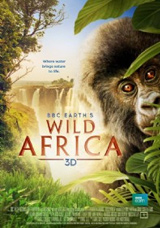 Now Showing:

Wild Africa 3D

Wild Africa 3D takes audiences on a spectacular journey across, over, and through the magical realms of the wildest continent on Earth. Water, the interconnecting force of this enchanted kingdom, serves as a guide, shaping wild Africa and conjuring up life wherever it journeys… traveling above the plains on seasonal winds, cascading along raging rivers or sheltering coral cities. Audiences will be plunged into fantastic places and meet amazing creatures, discovering the fascinating secrets of this incredible world. It's an adventure where you will truly believe the real world is more extraordinary and awe-inspiring than any fiction. Learn More
Running Time 40 minutes | Shown in 3D
Showtimes:
Sept 24 - Dec 18 (Wed-Sun): 11:00am | 1:00pm | 3:00pm*
Dec 19 - Dec 23: 11:00am | 1:00pm | 3:00pm
Dec 26 - Dec 31: 11:00am | 1:00pm | 3:00pm | 5:00pm*

*No 11am and 3pm showings on Dec 10-11. No 5pm show on Dec 31.
Now Showing:

Journey to the South Pacific 3D

Narrated by Cate Blanchett, Journey to the South Pacific will take moviegoers on a breathtaking 3D adventure to the lush tropical islands of remote West Papua, where life flourishes above and below the sea. Join Jawi, a young island boy, as he takes us on a journey of discovery to this magical place where we encounter whale sharks, sea turtles, manta rays, and other iconic creatures of the sea. Home to more than 2,000 species of sea life, this exotic locale features the most diverse marine ecosystem on earth. An uplifting story of hope and celebration, Journey to the South Pacific highlights the importance of living in balance with the ocean planet we all call home. Learn More
Educator Guide
Running Time 40 minutes | Shown in 3D
Showtimes:
Nov 23 - Dec 18 (Wed-Sun): 12:00pm* | 2:00pm | 4:00pm*
Dec 19 - Dec 23: 12:00pm | 2:00pm
Dec 26 - Dec 30: 12:00pm | 2:00pm | 4:00pm | 6:00pm
Dec 31: 12:00pm | 2:00pm | 4:00pm | 6:00pm | 8:00pm | 10:00pm
Jan 1 - Jan 3: 12:00pm | 2:00pm | 4:00pm | 6:00pm
*No 12:00 or 4:00 showings Dec 10-11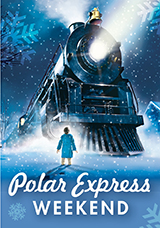 Coming Soon:

Polar Express

Tom Hanks and director Robert Zemeckis ("Forrest Gump"; "Cast Away") reunite for "Polar Express," an inspiring adventure based on the beloved children's book by Chris Van Allsburg. When a doubting young boy takes an extraordinary train ride to the North Pole, he embarks on a journey of self-discovery that shows him that the wonder of life never fades for those who believe.
Running Time 100 minutes | Shown in 2D
Showtimes:
Dec 9: Preshow: 7:00pm, Movie: 8:00pm
Dec 10-11: Preshow: 9:00am, Movie: 10:00am* | Preshow: 3:00pm, Movie: 4:00pm

*Dec 10-11 10:00am showings are sensory friendly (2D, lower sound, higher light levels)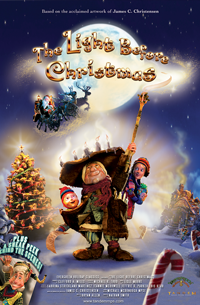 Coming Soon:

The Light Before Christmas

After losing their way on a cold, blustery Christmas eve, two children, Katie and Makean are rescued by their friend, the Candleman, an old sage who imparts wisdom, hot chocolate, and stories. Opening a weathered book, he begins reading the classic tale, The Night Before Christmas. Magically, Katie and Makean become characters in the poem where they learn the light of Christmas comes from the giver of all good gifts. Running Time 28 minutes | Shown in 2D
Showtimes:
Dec 17-23: 4:00pm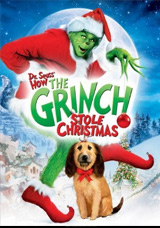 Coming Soon:

How the Grinch Stole Christmas

In this live-action adaptation of the beloved children's tale by Dr. Seuss, the reclusive green Grinch (Jim Carrey) decides to ruin Christmas for the cheery citizens of Whoville. Reluctantly joined by his hapless dog, Max, the Grinch comes down from his mountaintop home and sneaks into town to swipe everything holiday-related from the Whos. However, the bitter grump finds a hitch in his plans when he encounters the endearing Cindy Lou Who (Taylor Momsen). Running Time 105 minutes | Shown in 2D
Showtimes:
Dec 17-23: 5:00pm
Coming Soon:

Secret Ocean 3D

Jean-Michel Cousteau, son of ocean pioneer Jacques Cousteau, offers a breakthrough look at a secret world within the ocean that is perhaps the biggest story of all—that the smallest life in the sea is the mightiest force on which we all depend. Alongside marine biologist Holly Lohuis, he invites viewers to dive into this whole new world that will leave them in awe of the beauty and diversity of the oceans – the source of all life on our planet – and inspire an even stronger desire to protect what they have either seen for the first time or perhaps re-discovered along the journey.

Narrated by renowned oceanographer Dr. Sylvia Earle, "Jean-Michel Cousteau's Secret Ocean 3D" introduces audiences to over 30 species, illuminating behaviors captured for the first time thanks to the development of new tools that allow underwater filming in 3D, ultra-HD 5K, slow motion, macro, and with motion control, and takes them to remarkable and vibrant environments such as the Bahamas, Fiji, and Bimini. Learn More
Running Time 40 minutes | Shown in 3D
Showtimes:
Jan 1 - Jan 3: 11:00am | 1:00pm | 3:00pm | 5:00pm
Jan 4 - 13: 11:00am | 1:00pm | 3:00pm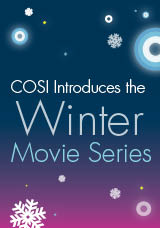 Coming Soon:

Winter Movie Series

This winter bring your family to COSI to see family-friendly, popular Hollywood movies on the National Geographic Giant Screen. With timeless classics like The Wizard of Oz to new favorites like Frozen, there is something for every movie fan. Each weekend features a different film with shows at 10am and 4pm on the dates listed. Tickets are just $5 per person for Members/$6 for Nonmembers, available in advance and at the door (sell-outs are possible).

Jan 14-15 Frozen (PG) 10am and 4pm Sat/Sun Buy Tickets
Jan 21-22 Little Mermaid (G) 10am and 4pm Sat/Sun Buy Tickets
Jan 28-29 Beauty & the Beast (G) 10am and 4pm Sat/Sun Buy Tickets
Feb 4-5 Wizard of Oz (G) 10am and 4pm Sat/Sun Buy Tickets
Feb 11-12 Willy Wonka & Chocolate Factory (G) 10am and 4pm Sat/Sun Buy Tickets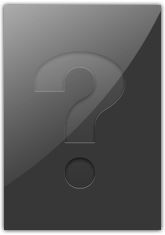 Now Showing:

Teacher's Choice Films

See the film on your choice during your field trip or group visit, including Tornado Alley, Titans of the Ice Age, D-Day: Normandy 1944, Wild Ocean, We the People and many others from COSI's library of award-winning giant screen documentaries. Learn More
Showtimes:
Daily: 10:05am
New 4K Digital Projection System
COSI has the most cutting edge technology in digital projection with the recent installation of 4K projection which creates a larger, sharper, brighter image. COSI can now show the highest frame rate in the industry - 60 frames per second - the next frontier for digital movie making. Come see it for yourself!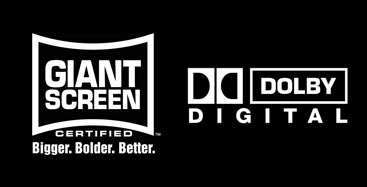 More than Movies
COSI's partnership with National Geographic extends beyond the theater to bring you additional world-class programming and experiences. Watch for National Geographic speakers and workshops, as well as programs co-developed by National Geographic for COSI members and visitors.